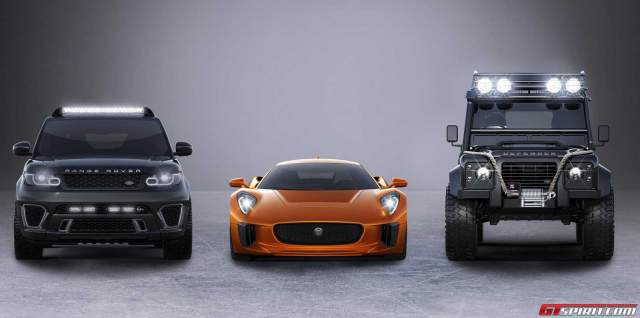 Jaguar Land Rover has finally raised the curtain on its trio to star in Spectre, latest episode of its successful link with the Bond franchise – the Jaguar C-X75 hybrid supercar, Range Rover Sport SVR and Land Rover Defender Big Foot.
The 354 km/h Jaguar C-X75 concept vehicles, first unveiled nearly two years ago, will form part of spectacular chase sequence with James Bond's Aston Martin DB10 in Rome.
The JLR trio have been provided by Jaguar Land Rover Special Operations to feature in Spectre, the 24th James Bond adventure to be screened from November 6, from Albert R. Broccoli's EON Productions, Metro-Goldwyn-Mayer Studios, and Sony Pictures Entertainment.
Aston Martin and EON Productions unveiled Bond's stunning new DB10, on the 007 stage at Pinewood Studios in December but within days, in a twist befitting a plot for the legendary international superspy, it emerged that a total of nine cars for the film – including five Range Rover Sports = had been stolen from the Land Rover Training Centre in Germany.
The stolen vehicles with an estimated value of 800,000 euros were in the final stages of preparation to be transported to a Spectre film set in European Alps.
The Jaguar C-X75 will feature in a spectacular car chase sequence through Rome alongside the Aston Martin DB10. The C-X75 vehicles used in filming have been built in collaboration with Williams Advanced Engineering facility in Oxfordshire, England.
The Jaguar C-X75 is a state-of-the-art hybrid supercar which can hit 160km/h from standstill in less than six seconds and has a top speed of 354 km/h. Its 502 hp, 1.6-litre turbocharged and supercharged four-cylinder engine is one of the world's highest specific power output powerplants at 313bhp per litre. The C-X75's two electric motors add a further 390bhp, for a combined output in excess of 850bhp.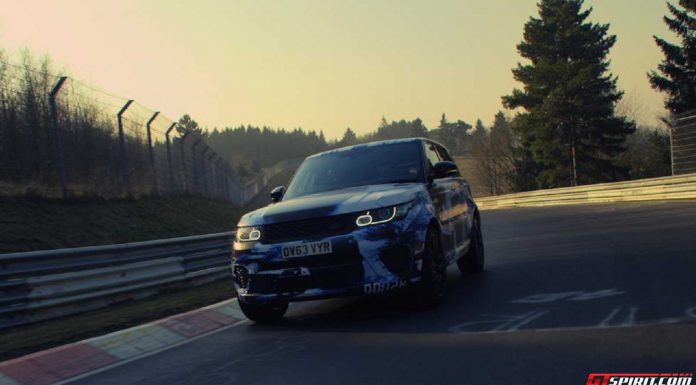 Scenes including the heavily modified versions of Land Rover Defender & Range Rover Sport SVR have already been filmed in Austria. At 550 PS the Range Rover Sport SVR is the fastest and most powerful Land Rover ever and last year in standard form lapped the famous Nordschleife circuit at the Nürburgring in Germany in 8 minutes 14 seconds, making it the fastest production SUV around the Nürburgring.
The highly capable Big Foots were constructed by Special Operations with huge 37-inch diameter off-road tyres to tackle the extreme terrain. They also feature bespoke suspension systems and enhanced body protection.
Managing director of Jaguar Land Rover Special Operations John Edwards said: "This is an exciting partnership for Jaguar Land Rover and an opportunity to demonstrate the fantastic capabilities of the Special Operations team."
Jaguar and Land Rover vehicles have been involved in a succession of Bond films. Most recently, in 2012, the rugged Defender 110 Double Cab Pick Up was driven by field agent Eve Moneypenny in the opening sequence to Skyfall.