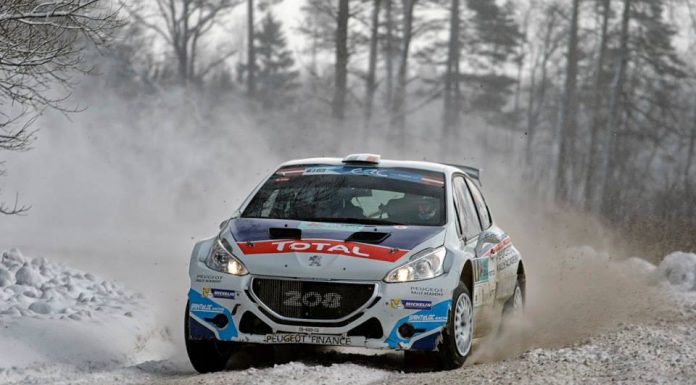 Irishman Craig Breen won the 2015 FIA ERC Rally Liepaja in Latvia after a masterful drive through the harshest conditions of the year. His Peugeot Rally Academy 208 T16 was in desperate need of a win. Breen, who was co-piloted by Britain's Scott Martin, survived the frozen conditions to claim his first win since the Acropolis Rally in Greece last year. As such, most of his counterparts in the R5 and Super 2000 class were unable to overcome the harsh driving conditions leaving the top ten open to R4 production cars and ERC junior competitors.
For Breen this was a moment of glory. He has now won on gravel, tarmac and snow. He led from SS2 to SS11 and is the first Irishman to win on snow since the 1960s. There were three R4 production cars in the top four, out of those three two of them were Mitsubishi Lancer X Evos while Subaru claimed third overall. It was ERC Junior victor Emil Bergkvist who scored the most extraordinary finish after crossing the line in sixth place overall driving an ADAC Opel Rallye Junior Team Opel Adam R2.
Speaking about his win, Breen said: "It was really a rally of attrition in tough conditions, but when we were pushing we were only beaten on one stage by 0.7s so we always had the speed. Things changed very quickly but we stuck to our pace and this is an awesome result. You have to go back through the history books, to the 1960s, for the last time an Irishman won on snow.
It's a big boost for me and after winning on gravel and Tarmac in Greece last year I've now won on snow so that makes me a bit of an all-rounder. Hopefully this will be the first of many this year and the championship challenge is very much back on. Who can forget the next rally of the year is the Circuit of Ireland and we'll be coming back there with a win under our belts just like last year."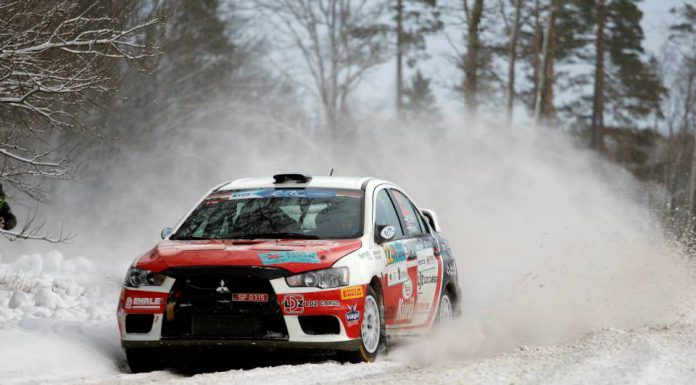 Elsewhere, Inessa Tushkanova won the Ladies trophy after fighting through the stages in her Mitsubishi Lancer Evo. In that same class of R4 production cars, Estonian Siim Plangi managed to lead from start to finish. The 22-year old crossed the line behind Breen overall. The battle for third was left between Jānis Vorobjovs in a Mitsubishi and Dominykas Butvilas in a Subaru Poland Rally Team Impreza WRX STI. A last minute puncture after hitting a snow-filled ditch eliminated Vorobjovs giving the Subaru a clear way for the win.
The Colin McRae ERC Flat Out Trophy was awarded to local driver Ralfs Sirmacis who finished third in the ERC Junior category. He had to drive his Peugeot 208 with two marker tires stuck under his car during SS8 but his relentless drive eventually paid off giving his team a podium win. The next rally will be in Ireland on April 2.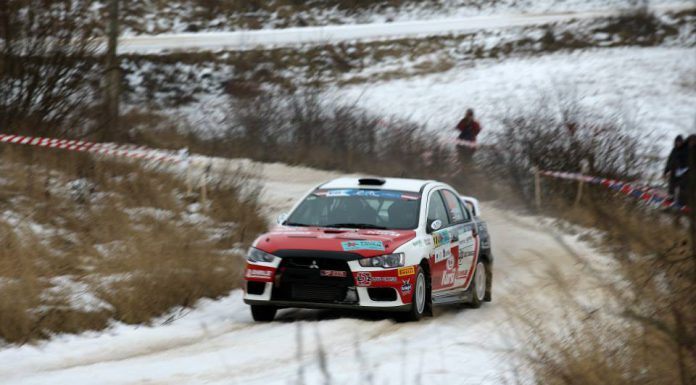 Top 10 Results
1 Craig Breen (IRL)/Scott Martin (GBR) Peugeot 208 T16 1h56m49.1s
2 Siim Plangi (EST)/Marek Sarapuu (EST) Mitsubishi Lancer Evolution X +1m40.7s
3 Dominykas Butvilas (LIT)/Kamil Heller (POL) Subaru Impreza WRX STI +5m48.6s
4 Mārtinš Svilis (LVA)/Ivo Püķis (LVA) Mitsubishi Lancer Evolution X +6m39.2s
5 Robert Consani (FRA)/Maxime Vilmot (FRA) Peugeot 207 S2000 +6m51.5s
6 Emil Bergkvist (SWE)/Joakim Sjöberg (SWE) Opel Adam R2 +7m29.9s
7 Janis Vorobjovs (LVA)/Andris Malnieks (LVA) Mitsubishi Lancer Evolution X +7m58.0s
8 Steve Røkland (NOR)/James Aldridge (GBR) Peugeot 208 R2 +8m00.0s
9 Ralfs Sirmacis (LVA)/Artūrs Šimins (LVA) Peugeot 208 R2 +8m09.1s
10 Raul Jeets (EST)/Andrus Toom (EST) Ford Fiesta R5 +8m36.0s
FIA ERC2: Siim Plangi (EST)/Marek Sarapuu (EST) Mitsubishi Lancer Evolution X
FIA ERC3: Emil Bergkvist (SWE)/Joakim Sjöberg (SWE) Opel Adam R2
FIA ERC Junior: Emil Bergkvist (SWE)/Joakim Sjöberg (SWE) Opel Adam R2
ERC Ladies' Trophy: Inessa Tushkanova (RUS) Mitsubishi Lancer Evolution IX
Colin McRae ERC Flat Out Trophy: Ralfs Sirmacis (LVA) Peugeot 208 R2