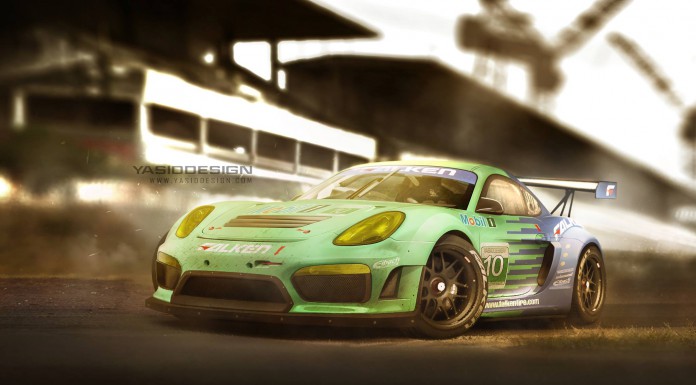 Back in October 2014, it emerged that a race-spec variant of the just revealed Porsche Cayman GT4 could be released. At the time, those reports suggested that the entry-level racer would sit below racing variants of the Porsche 911.
Now that the 2015 Porsche Cayman GT4 has been officially revealed, Yasid Design has rendered a track-focused version. Beyond the new Falken tyre livery, the car rendered features racing wheels and tyres, yellow headlights, a new bonnet as well as a towering rear wing.
As for the road-going Porsche Cayman GT4, it shares many components with the superb 991 911 GT3. As such, it has been able to lap the Nurburgring in a brisk 7 minutes and 40 seconds.
Elsewhere, the entire car has been refocused with a plethora of improved and enhanced parts that promise to make the GT4 the most sporty Cayman to date. These include improvements to engine, chassis, brakes and aerodynamic components. Porsche insist that the Cayman GT4 still maintains its everyday usability that has been distinct characteristic of every Cayman generation. The Cayman GT4 is powered by a 3.8-litre flat-six that produces 385 horsepower, a power unit that has been derived from the 991 911 Carrera S. Of course as with all other Cayman models the GT4's engine will be mid-mounted.
Interestingly, and in contrast to the 911 GT3, the Cayman GT4 is only available with a manual transmission. The performance figures of the Cayman GT4 are nothing short of exceptional. 0-100 km/h (60 mph) is dispatched in a brisk 4.4-seconds and it will continue to accelerate to a top speed of 295 km/h (183 mph).
[Via Yasid Design]