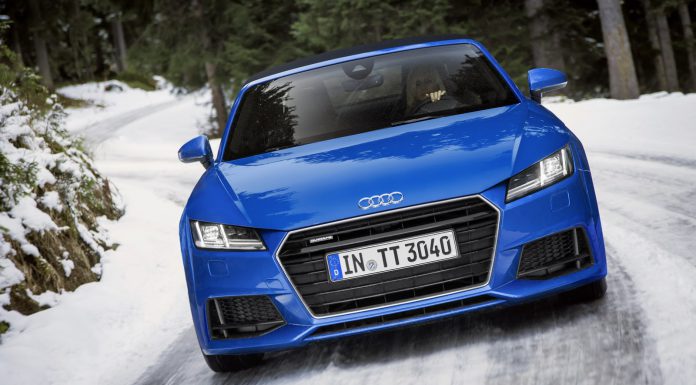 A plethora of new photos of the 2015 Audi TT Roadster have been released as a stunning blue example recently headed into the European Alps to tackle the snowy conditions.
With the exception of the entry-level diesel powered TT Roadster which is front wheel drive, the other variants can either be ordered with the German firm's quattro all-wheel drive system or alternatively, come standard with the system. As a result, these all-wheel drive versions have absolutely no problem operating in the slipperiest conditions including snow covered roads.
From an engine standpoint, the entry-level model utilises a 2.0-litre TDI Ultra diesel engine delivering a total of 181 hp as well as 280 lb-ft of torque. While these figures aren't revolutionary, the diesel equipped Audi TT models are more focused on fuel economy with the small engine sipping through just 4.3-litres of petrol per 100 km.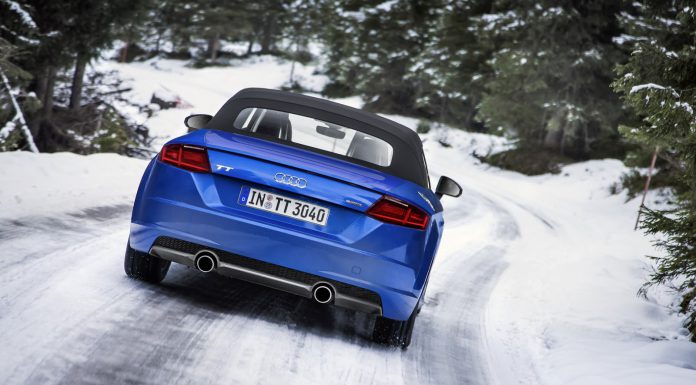 The next step up in the range of engines is the 2.0-litre TFSI. It delivers a total of 227 hp and 273 lb-ft of torque just like the 2015 Audi TT coupe. At the top of the range is the TTS Roadster compete with its thoroughly uprated 2.0-litre TFSI petrol engine. Tuned to deliver a total of 306 hp as well as 280 lb-ft of torque, the 2015 Audi TTS Roadster will sprint to 100 km/h in a respectable 4.9 seconds as well as an electronically limited top speed of 250 km/h.