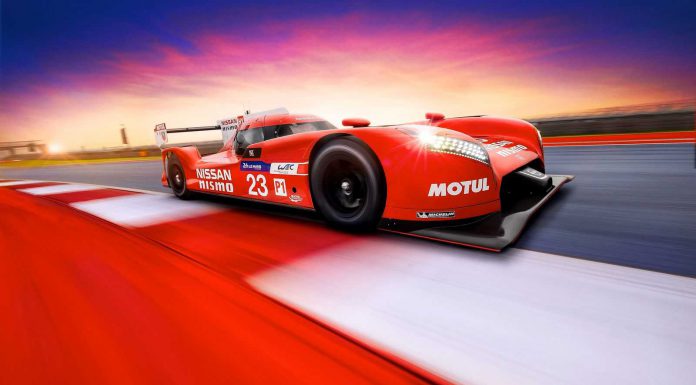 The 2015 Nissan GT-R LM Nismo is set to celebrate its public debut at the Chicago Auto Show 2015 next week not long after the racer was revealed online. Alongside the GT-R LM Nismo, Nissan will bring along a GT-R Nismo, the Sentra Nismo Concept and a brand new Nismo concept to the annual auto show.
As speculated, the Nissan GT-R LM Nismo is front-engined unlike other modern LMP1 entrants. Up front it uses a twin-turbocharged 3.0-litre V6 engine which believe it or not, actually powers the massive front wheels. That engine is mated to a kinetic energy recovery system (KERS) and theoretically, over 2000 hp can be achieved. According to reports however, that has been lowered to the 1500 hp mark making it comfortably the most powerful current LMP1 racer.
Power from the recovery system can be funnelled through either the front wheels or the rear wheels if necessary effectively making the 2015 Nissan GT-R LM Nismo all-wheel drive in certain circumstances. To transmit such power through the front wheels, massively wide 14 inch tyres are found at the front while 9 inch tyres have been fitted to the rear of the GT-R LM Nismo.
Beyond the unique engine setup, the Nissan GT-R LM Nismo is an exercise in advanced aerodynamics. Whereas other Le Mans prototypes have been designed so air passes over, around and beneath the car, the GT-R LM Nismo has actually been designed for the air to flow through the car in what is known as a through-flow system. As such, air channels start at the front of the car, work their way around the cabin and then exit at the rear end and diffuser.