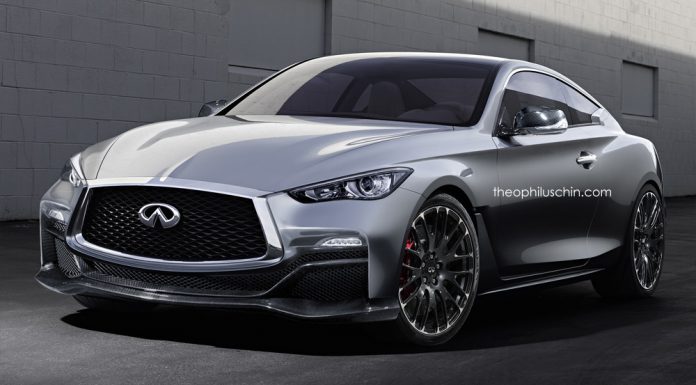 At the Detroit Motor Show 2015, the covers were taken off the Infiniti Q60 Concept. Believed to be previewing a potential BMW 4-Series rival from the American marque, the Q60 Concept certainly has the right ingredients to be a success. With that said, it has yet to be confirmed for production.
Nevertheless, Theophilus Chin has decided to render how a potential Infiniti Q60 Eau Rouge variant could look if it were created to take the fight to the BMW M4. Compared to the standard concept, it includes a new set of wheels, beefed up air intakes, a more prominent front splitter as well as more production-spec headlights.
Generally speaking, the design of the Infiniti Q60 Eau Rouge has been inspired by the Q80 Inspiration and as a result, features similar flowing lines alongside a menacing and bold front fascia. Additionally, similar elements to the Infiniti Q50 Eau Rouge Concept can be found across the Q60 particularly with the similar gills behind the front wheel arches.
If the green light is given for the Q60 to be put into production, there's still a distinct possibility that an Eau Rouge variant wouldn't see the light of day. As a matter of fact, reports recently emerged suggesting that the firm is no longer interested in creating the potent Nissan GT-R powered Infiniti Q50 Eau Rouge.
[Via Theophilus Chin]