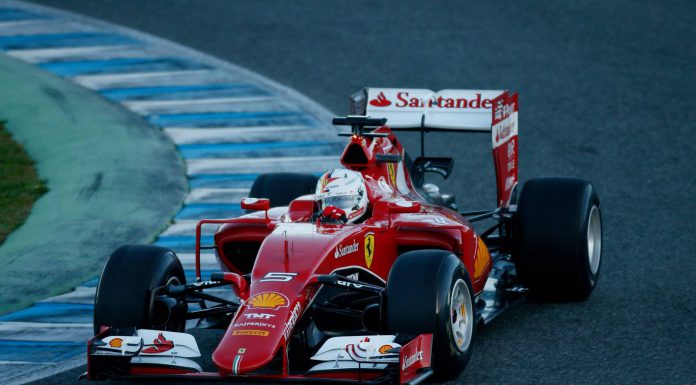 Sebastian Vettel set the fastest time for Ferrari on the first day of the F1 pre-season testing in Jerez, Spain. The testing will go on till February 4th as teams prepare for the new season which starts on March 15th. Vettel switched to Ferrari for the 2015 season after leaving Red Bull, his void was filled by Daniil Kvyat who was formerly with sister team Toro Rosso.
Driving the new Ferrari SF15-T car that was unveiled last week, Vettel set a best time of 1m 22.620s this afternoon after completing 60 laps. Another Ferrari powered car- the Sauber C34 of Marcus Ericsson set the second fastest time of the day at 1m 22.777s after completing 73 laps. Nico Rosberg gave Mercedes the third fastest time of the day at 1m 23.106s in the Mercedes-AMG W06 which was unveiled today. Rosberg completed a total of 157 laps recording the highest number of laps from today.
See a list of all the 2015 Formula 1 Cars here.
Elsewhere, Daniel Ricciardo set the fourth fastest time for Red Bull at 1m 23.338s with a total of 35 laps. Testing continues tomorrow with the second set of drivers expected to pilot the cars. There is still no word on whether Caterham and Marussia will make it for the season premiere race. All other teams have at least revealed a new car and are attending the pre-season testing.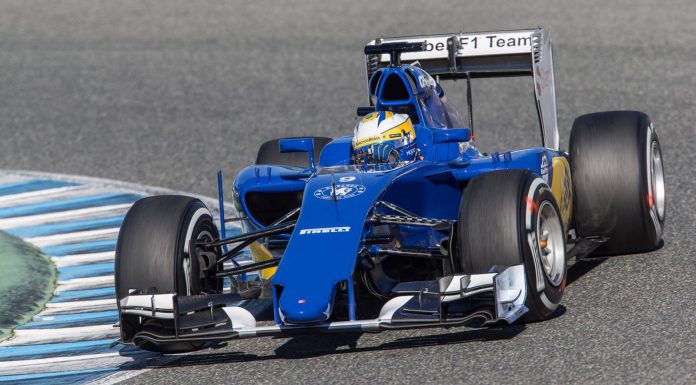 Unofficial Sunday Testing Times in Jerez
1. Sebastian Vettel, Ferrari, 1m 22.620s, 60 laps
2. Marcus Ericsson, Sauber, 1m 22.777s, 73 laps
3. Nico Rosberg, Mercedes, 1m 23.106s, 157 laps
4. Daniel Ricciardo, Red Bull, 1m 23.338s, 35 laps
5. Valtteri Bottas, Williams, 1m 23.906s, 73 laps
6. Carlos Sainz Jr, Toro Rosso, 1m 25.327s, 46 laps
7. Fernando Alonso, McLaren, 1m 40.738s, 6 laps