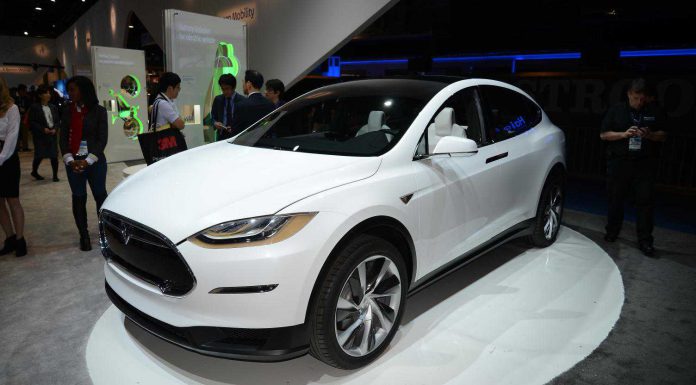 A prototype for the upcoming Tesla Model X electric SUV has been spied testing in Alameda, California on an abandoned runway. The short video shows numerous acceleration cars in the car with grip tests also being performed on the tarmac. In characteristic Tesla style, the Model X test mule runs absolutely silently with nothing but the tyres making any sound.
[youtube]https://www.youtube.com/watch?v=XTfqVQ1n5P4[/youtube]
For power, the Tesla Model X will be available with the same range of batteries as the Model S. Consequently, the base Model X will utilise a 60kWh battery pack delivering a total of 380 hp and capable of powering the world first electric SUV for over 300 km. Elsewhere, the Tesla Model X will be available with the slightly larger 85 kWh battery delivering the same power but providing slightly improved range. Finally, the range-topping Tesla Model X P85D will be available with the same dual-motor system as found in the most expensive Model S variant. Consequently, it will produce 691 hp and have a range around 380 km.
Beyond the various powertrains, it has been confirmed that the Tesla Model X will feature seven seats and utilise the unique 'falcon wing' doors of the original Model X concept.
Following the car's official debut later this year, customer deliveries of the Model X will commence in the first quarter of 2016.