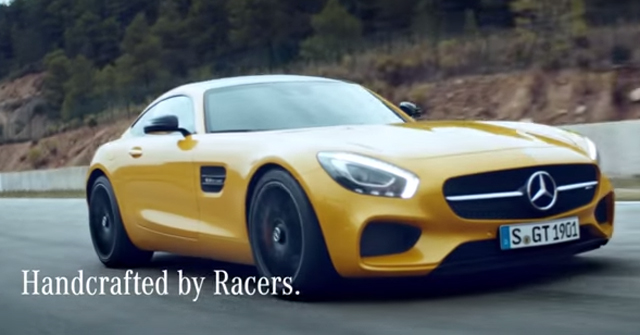 A brand new trailer for the 2015 Mercedes-AMG GT has just been released and this particular clip takes a direct swipe at the all-conquering Porsche 911.
[youtube]https://www.youtube.com/watch?v=745ApnhDp4s[/youtube]
The video revolves around a dream a child is having about a Porsche 911 on a race track. Out of the blue however, the brand new Mercedes-AMG GT effortlessly overtakes the 911 with the tagline 'The car you dreamed of as a child has just been overtaken'. Strong words, but after driving the brand new AMG GT on the track and on the street, we must say that it is immensely impressive. Better than a 911? Well that's yet to be decided.
GTspirit review of Mercedes-AMG GT

As a reminder, the 2015 Mercedes-AMG GT comes with a mid-engine concept with transaxle and the intelligent aluminium lightweight construction. It has a newly developed AMG 4.0-litre V8 biturbo engine, which soon will also feature in the new C63 It is the first sports car engine with internally mounted turbochargers ("hot inside V") and dry sump lubrication. It comes in two versions, the base AMG GT with 462 hp and as the Mercedes-AMG GT S with 510 hp. The AMG GT S will be available from March 2015 and the base AMG GT will follow towards the end of 2015.
The 510 hp figure of the Mercedes-AMG GT S is joined with 650 Nm of torque between 1750 and 4750 rpm. Consequently, it will rocket to 100 km/h in a mere 3.8 seconds and a top speed of 310 km/h.