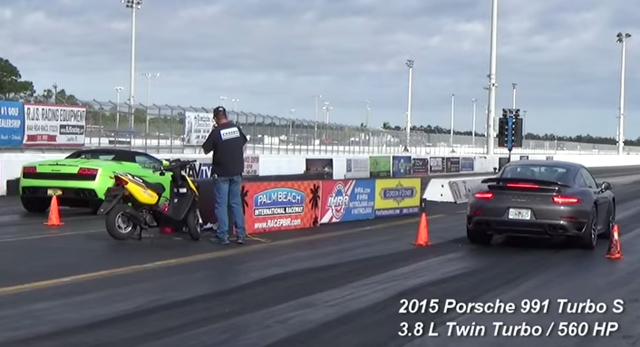 Even with an all-wheel drive system like found on the Lamborghini Gallardo, strapping two turbochargers into an Italian exotic will always create traction issues. So when the following 1000 hp Lamborghini Gallardo Spyder from Heffner Performance was pitted against a stock Porsche 911 Turbo S at the drag strip, the mid-engined Gallardo had a real fight on its hands.
[youtube]https://www.youtube.com/watch?v=HNAPOIsQ8Yw#t=36[/youtube]
As the clip shows, the Gallardo manages to walk away with the win but only just. It recorded a brisk but not breathtaking 10.75 second quarter mile run at 223 km/h (139 mph) while the 911 Turbo S comes home in 10.93 seconds at 197 km/h (123 mph).
If the results were the other way around, rest assured the Lamborghini Gallardo owner would have been very embarrassed!