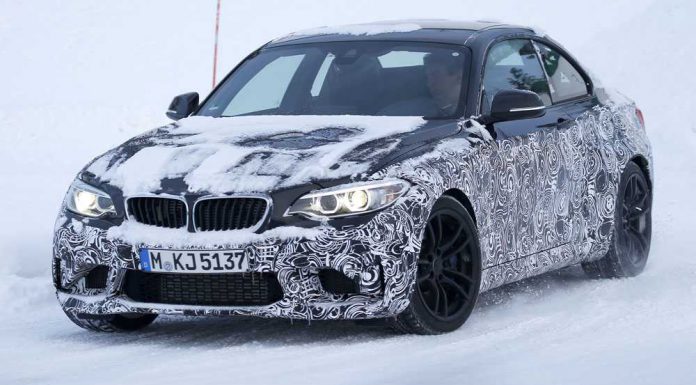 A new prototype of the 2016 BMW M2 has been snapped cold winter testing with this particular test mule believed to be in completed, production specification.
Compared to previous mules, this one appears to have ditched the bolted on flared wheel arches in favour of completed new quarter panels incorporating wider fenders. Additionally, a new set of wider wheels have been installed while a traditional quad-tailpipe system from BMW has also been installed alongside a more prominent bootlid lip spoiler.
Beyond these styling elements, the 2016 BMW M2 will adopt different front and rear bumpers to existing 2-Series variants alongside a set of larger cross drilled brakes similar in size to the brakes from the M3 and M4 Coupe duo.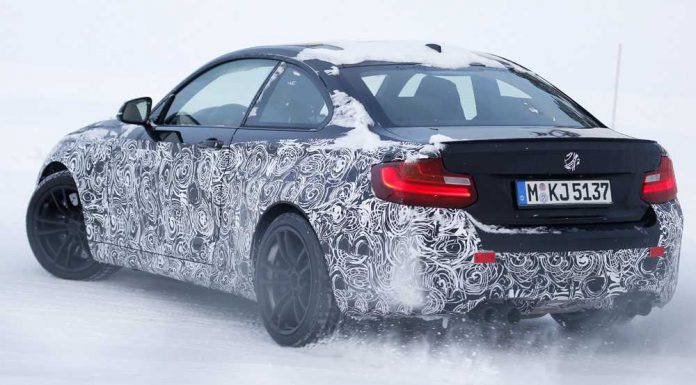 As for what will power the M2, the latest reports indicate that a brand new, next-generation 3.0-litre twin-turbocharged six-cylinder is likely to be given the green light. Designated as the S57 B30, the new engine will feature different internals to the same sized 'six from the M3/M4. All up, it should deliver around 370 hp and come fitted with either a six-speed manual transmission or alternatively, an eight-speed dual-clutch gearbox.
According to the most recent suggestions, the 2016 BMW M2 will be revealed at the Frankfurt Motor Show 2015 in September.