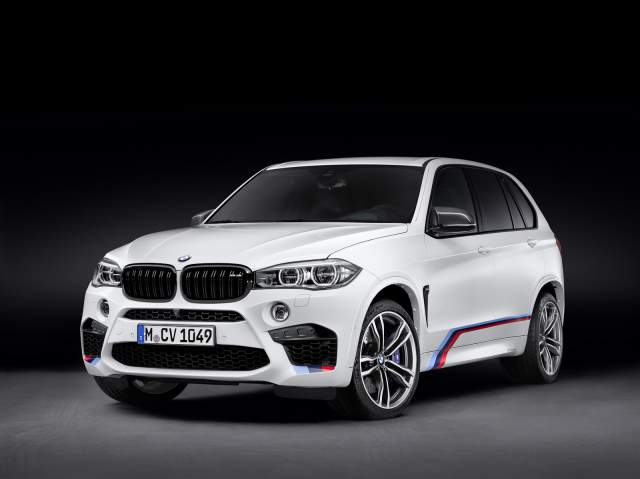 BMW has just taken the wraps off the new line of M Performance Parts available for the latest BMW X5 M and BMW X6 M.
As we've come to expect from what the M Performance Parts line offers, the elements aren't at all over-the-top but do add an extra sense of flair to the potent German performance SUVs. With that in mind, the X5 M and X6 M pictured features blacked out front kidney grilles as well as brand new carbon fibre wing mirror caps. Additionally, a racing stripe livery of the three BMW M colours is featured.
In the cabin, the M Performance Parts catalog sees new brushed stainless steel LED door sill plates offered with illuminated M Performance lettering. Additionally, numerous carbon fibre accents can be ordered while the centre console now combines alcantara and painted carbon fibre around the gear selector.
Additionally, the M Performance Parts steering wheel is offered with it adding alcantara and carbon fibre trim alongside a blue centre marker. Final parts that are available include M Performance floor mats.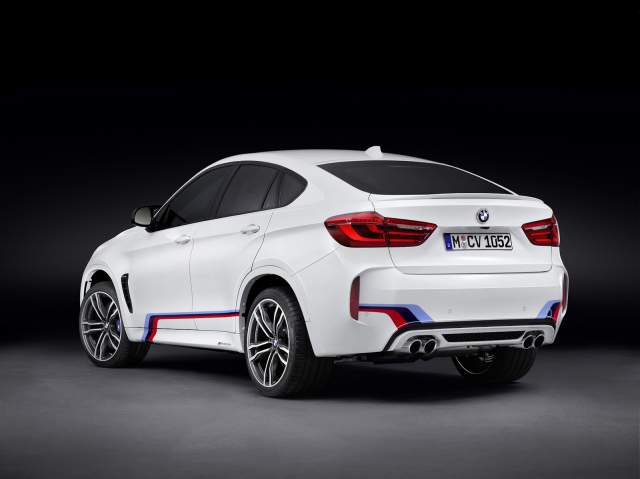 As a reminder, the 2015 BMW X5 M and BMW X6 M utilise exactly the same twin-turbocharged 4.4-litre V8 engine as the previous models. However, the 2015 BMW X5 M and X6 M deliver an extra 12 hp and 53 lb-ft of additional torque resulting in final figures of 567 hp and 553 lb-ft at a very low 2200 rpm. When it is all said and done, both the new BMW X5 M and X6 M sprint to 100 km/h (62 mph) in a brisk 4.2 seconds when using the potent launch control system. That is entry-level supercar levels of acceleration.