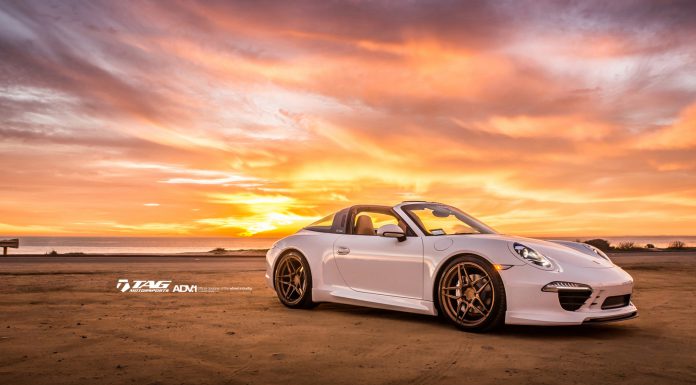 The 991-generation 2014 Porsche 911 Targa hasn't been on the market for very long and already, a white example has been fitted with a set of gorgeous matte bronze ADV.1 wheels.
These wheels are the ADV05|S M.V2 CS and they feature an eye-catching twin five-spoke star design and measuring 20×9 at the front as well as 20×11 at the rear. When combined with the pristine white paint finish of this particular Porsche 911 Targa and when photographed at sunset, the German sports car looks truly sensational.
As the Porsche 911 Targa is based on the 991 4 and 991 4S, it also gets a wide-body look. The two models initially available (excluding the recently revealed Targa 4 GTS) are both fitted with a seven-speed manual transmission as standard. The 2014 Porsche 911 Targa 4 is powered by a 3.4-litre, 350 hp flat-six engine. The Porsche 911 Targa 4S then delivers 400 hp from a displacement of 3.8 litres.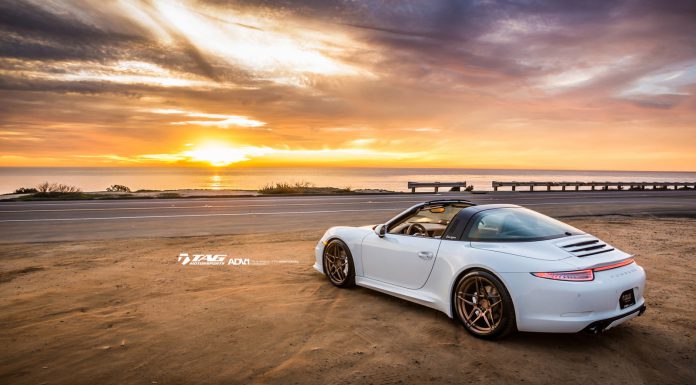 Equipped with the optional Porsche Doppelkupplung (PDK) double-clutch transmission and Sport Chrono Package, the Targa 4 accelerates from 0 to 100 km/h in just 4.8 seconds and on to a top speed of 175 mph. By comparison, the Targa 4S reaches a top speed of 184 mph and is able to accelerate from 0 to 100 km/h in 4.4 seconds.