The 53rd Rolex 24 at Daytona took place this past weekend marking the first round of the 2015 TUDOR United SportsCar Championship. With four categories to win from, drivers from various racing series took part in this event among them being NASCAR Sprint Cup Series favorites Jamie McMurray and Kyle Larson and IndyCar drivers Scott Dixon and Tony Kanaan who drove the winning No. 02 Target Ford EcoBoost/Riley to victory on Sunday.
Daytona Prototype:
The class comprised of a battling Ford, Corvette and Mustang team of drivers. Scott Dixon crossed the line first in the No. 02 Ford EcoBoost DP after a thrilling 7 minutes dash to the finish line alongside defending champion Sebastien Bourdais. Bourdais managed to stay on the podium for the second consecutive year after winning the race last year in the No. 5 Mustang Sampling Corvette DP. He was joined by Joao Barbosa and Christian Fittipaldi who were his co-drivers.
Jamie McMurray said, "I saw Chip walk in here just a second ago, and I told him after the race was over, we have shared some of the most special memories of my life together, some of the greatest days, with the exception of getting married and having kids, I've shared with Chip Ganassi and Felix. It's been great. Victory Lane at Daytona has been very special for us with the Daytona 500, and this is a big deal for me because these cars are so much different than what Kyle and I typically drive."
After winning this race, NASCAR's Jamie McMurray became the third driver to ever win the Daytona 500 and Rolex 24 joining A.J. Foyt and Mario Andretti. The No. 10 Konica Minolta Corvette DP of Jordan Taylor and Rick Taylor was eyeing for the win before they were penalized for pitting out of sequence; they finished the race in third.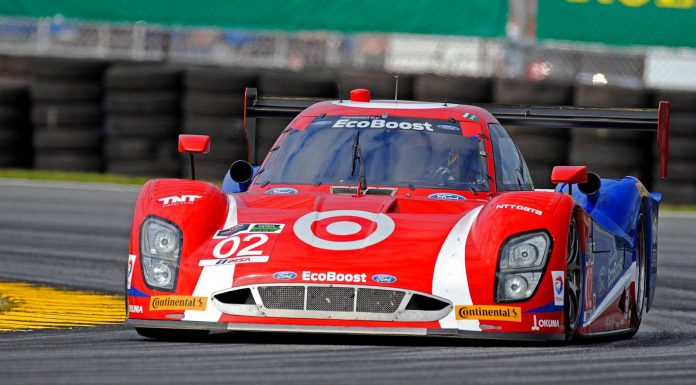 GT Le Mans:
The GTLM class was a battle between Corvette and BMW and eventually the No. 3 Corvette Racing Chevrolet Corvette C7.R of Antonio Garcia, Jan Magnussen and Ryan Briscoe crossed the line first to claim the much needed victory. This was Corvette's first win at Rolex 24 since 2001. The No. 25 BMW Z4 GTE from BMW Team RLL piloted by Dirk Werner finished in second. This was Garcia's second win at Rolex 24 as he won the race back in 2009 with Brumos Racing.
Garcia Said, "Every time you win here it's very, very special, I've been chasing this victory since 2009, even if I won it back then. This is a very unique race. It's the first race of the year, so it's very difficult to be at 100 percent right away for the team and for the drivers. Everything ran perfect, and as Ryan (Briscoe) said, we just kept our nose clean, and I had the best car to fight on the last eight minutes of the race."
Prototype Challenge:
PC class encountered all sorts of challenges from crashes to burning cars. CORE Autosport took the win in this class in the No. 52 PR1/Mathiasen Motorsports Cuttwood/Spyder Orafol ORECA FLM09. It was piloted by Tom Kimber-Smith, Mike Guasch, Andrew Novich and Andrew Palmer. The No. 16 BAR1 Motorsports Autosport Designs/Top 1 Oil ORECA which has won pole position finished the race in second. After crashing and catching fire, the No. 54 CORE autosport Composite Resources/Flex-Box ORECA FLM09 ran enough laps to finish in third place.
GT Daytona:
This was a Viper's territory with the No. 93 TI Automotive Dodge Viper SRT GT3-R clinching the win. The two remaining podium places went to Porsche teams; the No. 22 WeatherTech Racing Porsche 911 GT America finished in second while Hollywood star Patrick Dempsey crossed the finish line in third with his No. 58 Dempsey/Wright Motorsports Porsche 911 GT America.