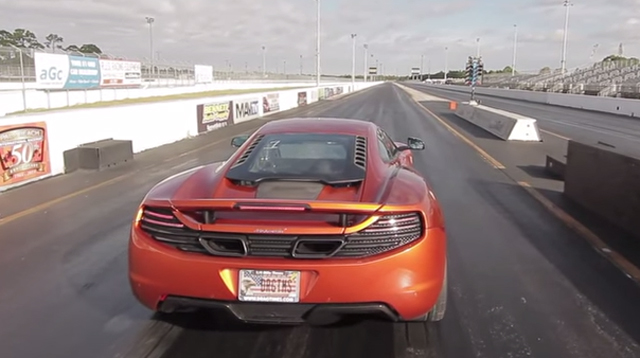 When the McLaren 12C was being produced, it was one of the fastest accelerating cars on the planet. Such speeds were achieved despite the fact that the 12C had less power and rear-wheel drive compared to more expensive and what you'd believe to be faster cars.
[youtube]https://www.youtube.com/watch?v=8kCyJ_w-pzQ#t=87[/youtube]
Not satisfied with the performance typically offered by the McLaren 12C, AMS Performance recently went about tuning the following Volcano Orange example. Thanks to the firm's upgrades, this 12C now delivers 716 hp and 601 lb-ft of torque and when it hit the drag strip at the Palm Beach International Raceway, it laid down an extremely impressive 10.1 second quarter mile.
That time was achieved on Nitto drag radial tyres as well as 93 octane fuel and is just a few tenths slower than the 903 hp McLaren P1. The top speed recorded over the line was 222 km/h. Also during this record setting run, the 12C sprinted to 96 km/h (60 mph) in a mere 2.71 seconds as well as hitting 160 km/h in just 5.59 seconds.