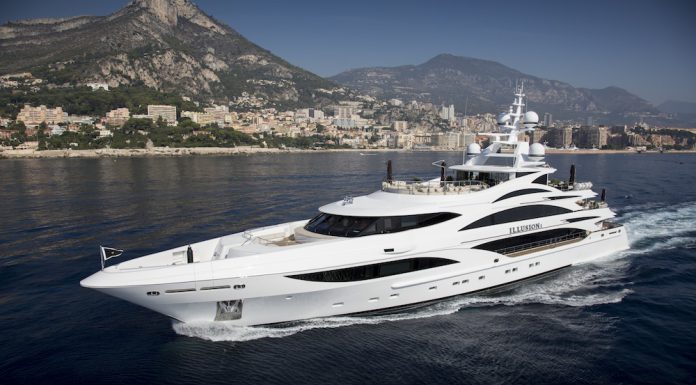 The Illusion V is one of the newest yachts from the Benetti Shipyard and was unveiled at the Monaco Yacht Show 2014. Designed by the Benetti team and Green & Mingarelli, the 58 m motor yacht is now available for commercial charter through Camper & Nicholsons International. The four deck aluminum and steel yacht is privately owned in Europe.
Benetti payed a little more attention to this particular yacht following bespoke requests by the owner. The impeccable design nature attributes itself to the well-known works by the Italian shipyard which is a wholly owned subsidiary of Azimut Yachts. Benetti has an outstanding record of six straight "shipyard number 1" wins from Showboat International magazine, the only shipyard with such a record.
The interior design is undoubtedly one of the best out there boasting of spacious salons and an unrivaled entertainment fortress. While the whole yacht can accommodate up to 12 guests, the main salon has a huge dinner table that sits 10 people comfortably. There is a bar in the main salon too, the walls are made of glass to allow in natural light.
For better viewing of the sea from the decks, the gunwales in front of the windows have been lowered. This also helps in illuminating the inside with natural light. The VIP cabin is located in the lower deck while the other three twin cabins are evenly distributed. The crew quarters are located in such a way that they have separate access to the decks and this allows for maximum privacy of the guests.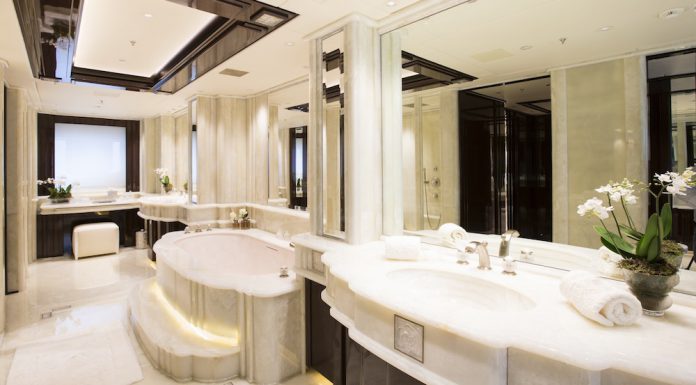 Opulent features were applied on every bit of the yacht, designers are clearly fanatics for details. All bathrooms are finished in onyx décor while sinks feature carved marble. The bathrooms have a central shower, two toilets and a bathtub. As mentioned above, the yacht had several bespoke requests by the owner, one of them was to eliminate noise and this was handled by a company from Denmark specializing in noise reduction.
At the heart of the Illusion V you find two CAT 3512C motors rated at 1380 kw each. The yacht has a cruising speed of 15 knots (fast) and 12 knots while cruising at normal speed, the latter has a range of 5000 nautical miles.