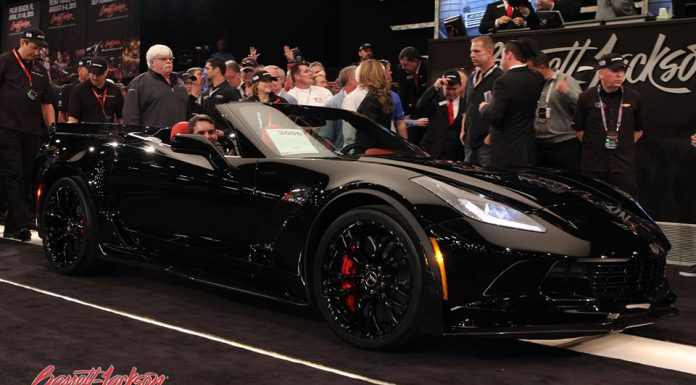 The very first 2015 Chevrolet Corvette Z06 Convertible has managed to sell for $800,000 at the ongoing Barrett-Jackson auctions. This follows on from the first production Corvette Z06 selling for $1 million back in April last year. All funds from the sale are benefitting the United Way charity.
Created to show European cars like the Porsche 911 Turbo S Cabriolet who is boss, the Chevrolet Corvette Z06 Convertible is a car we long saw coming considering the increasing demand for high-performance drop-tops. Importantly, the new 2015 Chevrolet Corvette Z06 Convertible looks every bit as good as the coupe and mechanically speaking is essentially identical.
Under the hood, it features the same new LT4 6.2-liter supercharged V8 engine delivering at least 625 hp and 645 lb-ft of torque. Just like the regular Corvette Stingray and Z06, the Z06 Convertible also utilises direct injection, Active Fuel Management (cylinder deactivation) and continuously variable valve timing.
However, the most impressive feature about the 2015 Chevrolet Corvette Z06 Convertible is its light curb weight. Traditionally, convertibles weigh significantly more than their coupe counterparts. Just look at the new M4 Convertible for example. It weighs over 250 kg more than the M4 Coupe! However, Chevrolet claims that the Z06 Convertible's curb weight is nearly identical to the coupe and that compared to the C6 Z06 Coupe, the aluminium structure of the Z06 Convertible is actually 20 per cent stiffer. The roof can be opened and close at speeds of up to 50 km/h.