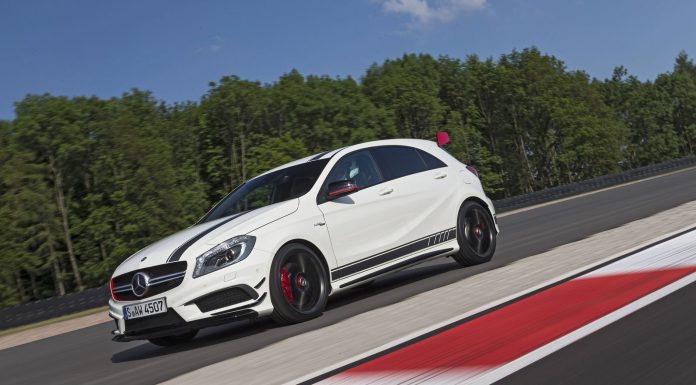 In the middle of the year, the facelifted Mercedes-Benz A-Class range will be revealed. As part of the refreshed line-up, the range-topping Mercedes-Benz A45 AMG is due for not only visual tweaks but a selection of mechanical upgrades.
As it stands, the 2.0-litre turbocharged four-cylinder engine of the A45 AMG delivers a total of 355 hp. While such a figure is extremely impressive for a four-cylinder, it has been bested by the new Audi RS3 and its 2.5-litre, five-cylinder turbo engine delivering 362 hp. However, AMG boss Tobias Moers has confirmed to Autocar that when the facelifted A45 AMG launches, it will once again by the most powerful model in the segment.
GTspirit review of Mercedes-Benz A45 AMG Edition 1

As a matter of fact, it is believed that the Mercedes-Benz A45 AMG will pump out 375 hp. As a result, the sprint to 100 km/h should drop by about 0.1 of a second down to 4.5 seconds. The car's top speed is likely to remain at 250 km/h however.
As with the rest of the Mercedes-Benz A-Class range, the facelifted A45 AMG will adopt slightly modified front and rear bumpers as well as tweaked headlights and taillights.
[Via Autocar]