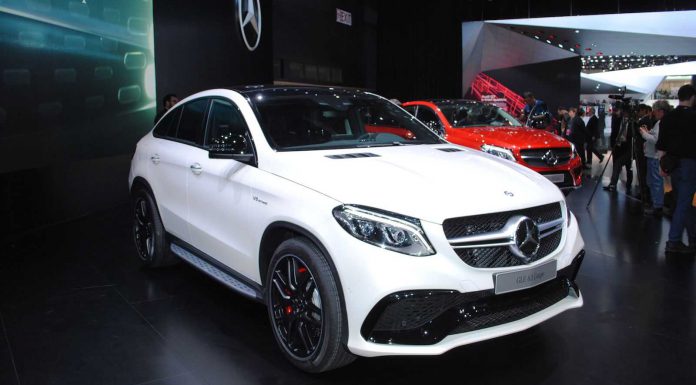 Alongside the Mercedes-Benz GLE Coupe debuting in a range of specifications at the Detroit Motor Show 2015, the range-topping 2015 Mercedes-AMG GLE63 Coupe has also been unveiled. Designed to rival the BMW X6 M, the GLE63 Coupe will face stiff competition in the high-performance SUV segment. With this in mind, we took some pictures of it live from the Mercedes-Benz display.
As expected, the Mercedes-AMG GLE63 Coupe doesn't make use of AMG's new 4.0-litre twin-turbocharged V8 engine. Instead, it uses the older 5.5-litre twin-turbocharged V8 which has been tweaked and fettled to now deliver a total of 577 hp at 5500 rpm and 560 lb-ft between 1750 and 5250 rpm in GLE 63 S Coupe specification. As a result of this, the GLE63 S Coupe accelerates quickly to 100 km/h in a mere 4.2 seconds.
As for the 'regular' GLE63 Coupe, it uses the same 5.5-litre twin-turbo V8 and delivers 549 hp at 5750 rpm as well as 516 lb-ft of torque between 1750 and 5500 rpm. Consequently, it reaches 100 km/h in 4.3 seconds, just 0.1 slower than the AMG S. Both specifications of the Mercedes-AMG GLE63 Coupe make use of AMG's seven-speed 7G transmission driving the 4Matic all-wheel drive system which sends 40 per cent of the power to the front and 60 per cent of power to the rear wheels. The top speed of both models is limited to 250 km/h.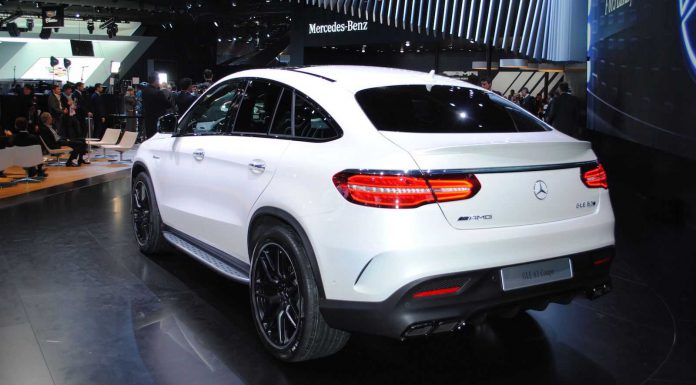 Underpinning the 2015 Mercedes-AMG GLE63 Coupe is a chassis derived from the one used by the ML63 AMG. Mercedes-Benz's AirMatic air suspension system has been added with the German firm's Active Curve system also featuring. 21-inch wheels are found at all four corners on the GLE63 AMG Coupe wrapped in 285/45 front tyres and 325/40 rear tyres. The range-topping Mercedes-AMG GLE 63 S Coupe uses 22-inch wheels.
For more from the Detroit Motor Show 2015, check out our dedicated news channel. For more about the 2015 Mercedes-AMG GLE63 AMG, see our previous post!