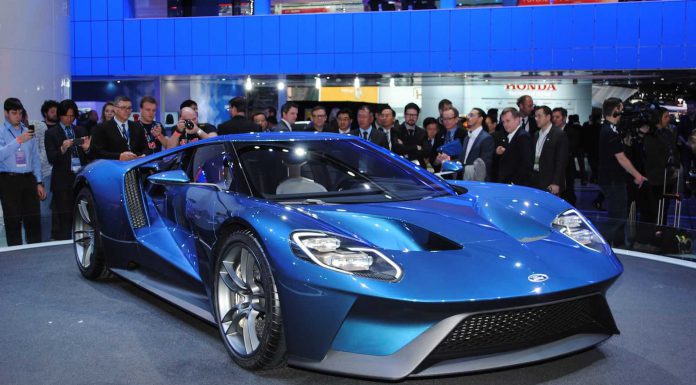 Unquestionably the biggest debut at the Detroit Motor Show 2015 is the world premiere of the 2016 Ford GT. Designed to celebrate the 50th anniversary of the Ford GT taking 1st, 2nd and 3rd in the 1966 24 Hours of Le Mans, the new Ford GT combines advanced technology and a futuristic design. We headed over to the Ford display for a close look.
Beneath the skin of the 2016 Ford GT is Ford's most powerful EcoBoost production engine ever and just as speculated, it is a twin-turbocharged 3.5-litre V6 unit delivering more than 600 hp. Final specifications have yet to be released nor have performance times, but one can be assured the 2016 Ford GT will be faster off the line and feature a higher top speed than the previous-generation Ford GT. This engine makes use of dual fuel-injection as well as a low-friction roller-finger-follower valvetrain and is paired with a seven-speed dual-clutch transaxle transmission.
Underpinning the 2016 Ford GT is a carbon fibre monocoque with aluminium front and rear subframes also featuring. Carbon fibre has also been used for the new Ford GT's body panels and while Ford has yet to reveal how much the car weighs, it is claimed to have "one of the best power-to-weight ratios of any production car".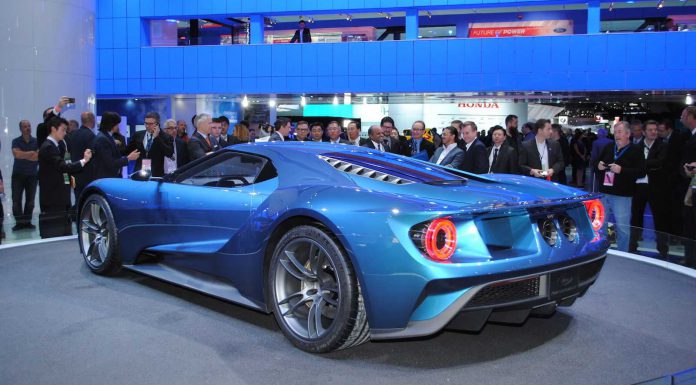 Design wise the 2016 Ford GT is a revolutionary step over the previous GT. With that in mind it features a plethora of curves and carries an overall tear-drop shape. While the entire body of the new Ford GT has been created to provide for the best airflow, the new American supercar also makes use of a selection of active aerodynamic components including an active rear wing which can adjust its height and pitch depending on driving conditions.
For more from the Detroit Motor Show 2015, check out our dedicated news channel. For more about the 2016 Ford GT, see our previous post.