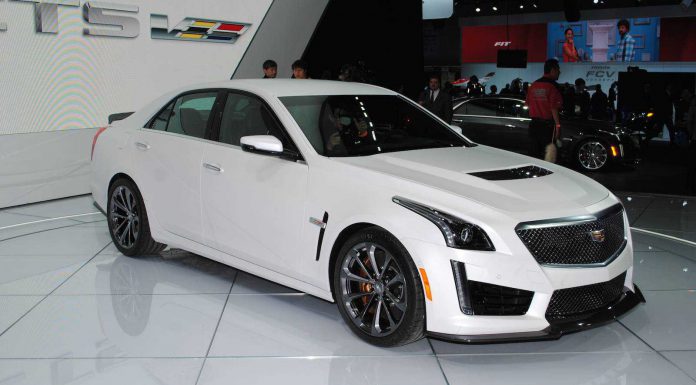 Complete with its screaming 6.2-litre supercharged V8 engine, the 2016 Cadillac CTS-V is currently being displayed at the Detroit Motor Show 2015. The CTS-V is now in its third-generation and the 2016 model takes the lunacy and performance one dramatic step further. As a matter of fact, it is the most powerful production car produced by Cadillac. As a result, we just had to see it in the flesh!
Beneath the skin, the 2016 Cadillac CTS-V uses the same 6.2-litre supercharged V8 engine as the latest-generation Chevrolet Corvette Z06. Whereas the Z05 delivers 650 hp, the new Cadillac CTS-V pumps out 640 hp and 630 lb-ft of torque. By comparison, the outgoing CTS-V pumps out 556 hp. This engine is then mated to a paddle-shift eight-speed automatic transmission driving the rear wheels. With the launch control function enabled, the 2016 Cadillac CTS-V rockets to 96 km/h (60 mph) in just 3.7 seconds as well as a top speed of 320 km/h (200 mph).
Cadillac claims that the 8L90 transmission used delivers performance to rival the very best, dual-clutch transmissions alongside the smoothness and refinement of a conventional automatic complete with a torque converter.
From a braking standpoint, the 2016 Cadillac CTS-V features six-piston Brembo calipers at the front alongside 390 mm discs as well as four-piston calipers at the rear and 365 mm discs. Other key technical features of the new CTS-V are Magnetic Ride Control and Performance Traction Management with four separate settings available for the electrical systems. These are Tour, Sport, Track and Snow.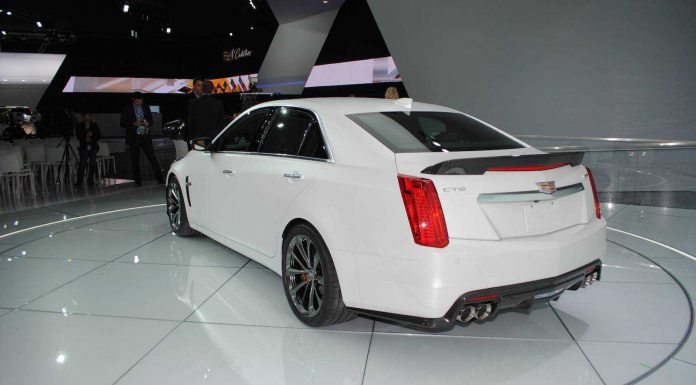 For more from the Detroit Motor Show 2015, check out our dedicated news channel. For more about the 2016 Cadillac CTS-V, check out our previous article!