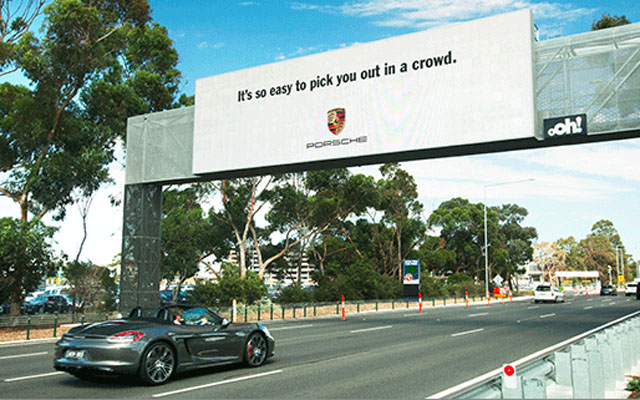 An advanced, interactive billboard has just been installed outside Melbourne's international airport and it is able to detect Porsche drivers and deliver personalised messages to them.
The billboard was designed by oOh! Media and it operates in conjunction with a camera located a few hundred metres up the road. This camera has the ability to detect a Porsche with advanced recognition software developed by oOh! Media and uses IBM software.
When the Porsche driver approaches the sign, it reads 'It's so easy to pick you out in a crowd' for 10 seconds.
Discussing the advanced sign, commercial director of operations and technology at oOh!, John Purcell said, "A camera located 300 metres from the billboard analyses the approaching vehicle make and model in real-time to identify if the car is a Porsche. Once a Porsche is detected it triggers the tailored message to be displayed as the Porsche is approaching.
"Over one week, this particular billboard will reach up to two hundred thousand travellers as they make their way to one of Australia's busiest airports. It's another great example of oOh!'s Unmissable capabilities in reaching audiences," Purcell said.