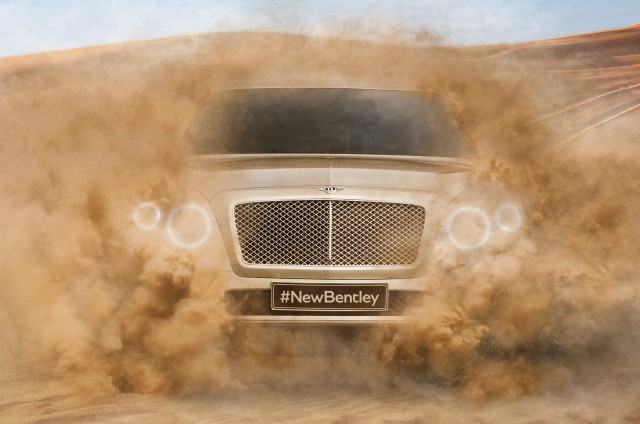 Bentley has just dropped a teaser video of the upcoming 2016 Bentley Bentayga SUV at the Detroit Motor Show 2015.
The name Bentayga was previously speculated as being attached to the Bentley SUV and derives from a rock formation called Roque Bentayga in the Canary Islands. Additionally, the name of the Bentley Bentayga has been inspired by the world's largest transcontinental snowforest, known as Taiga, to the north of England.
[youtube]https://www.youtube.com/watch?v=nlq0bQV4GNM[/youtube]
Discussing the name, chairman and chief executive of Bentley Motors, Wolfgang Durheimer, said, "Bentayga is a name that reflects what we know our SUV will do better than any other car in the world – combine the best automotive luxury with outstanding performance to take the Bentley experience to new environments."
In the teaser video, the 2016 Bentley Bentayga is depicted showing off its off-road prowess by ascending and then descending a massive sand dune in the desert.
Both V8 and W12 variants of the Bentley Bentayga will be offered with a plug-in hybrid version of the V8 to be made available a year after the car launches. There is also a possibility that a diesel driven derivative could be offered but a final decision on that won't come before the end of this year. If a diesel is given the go ahead, the Bentley Bentayga will make use of Audi's 4.2-litre V8 TDI also set to be used by the next-generation Porsche Cayenne.
The 2016 Bentley Bentayga will be revealed later this year before hitting the market in 2016.