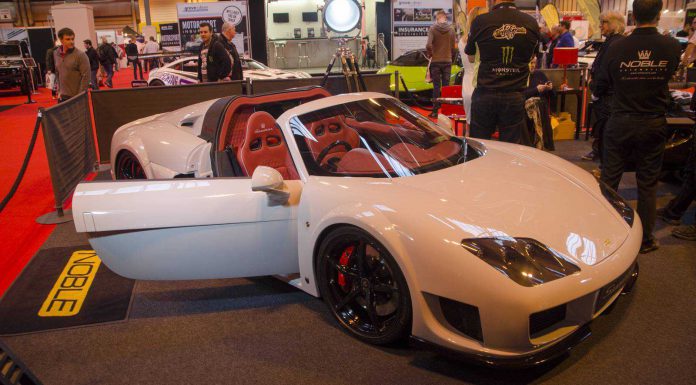 At Autosport International 2015, Noble has unveiled its very first Noble M600 Speedster prototype about three years after the car was tentatively teased by the British sports car manufacturer.
While it remains unclear if and when the Noble M600 Speedster will reach the market, reports emerged back in August that it could indeed hit the production line and the creation of this display model indicates Noble is seriously considering that. If the car is given the go-ahead for production, it will remain extremely driver focused and would borrow its mechanicals from the coupe.
That means a Yamaha 4.4-litre V8 featuring two turbochargers with variable boost would be fitted. In the coupe, this engine allows the driver to choose from three settings: the comfort setting represents 450 horsepower, the mid-range track setting 550 hp, and the full power or race setting a maximum amount of 650 horses.
Alongside the Noble M600 Speedster was a rare Noble M600 Carbon Sport with this particular example finished in dark red carbon fibre. Additionally, a selection of Noble M12s are on display at the show.