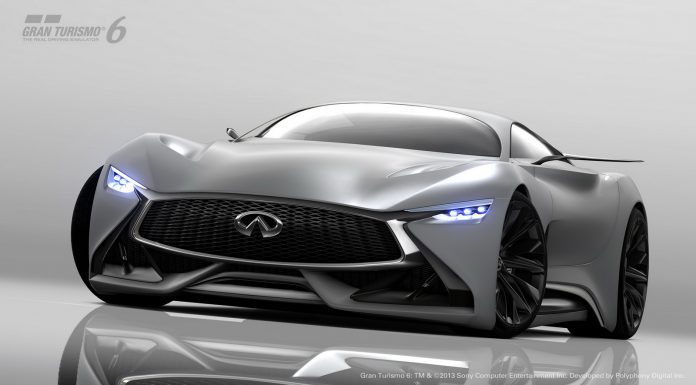 A few days after being teased, the Infiniti Vision Gran Turismo Concept has been revealed in all of its glory before it becomes available in the racing game.
While the Infiniti Vision Gran Turismo Concept is purely theoretical, the firm has said that it previews a potential look for future high-performance Infiniti cars. The design of the concept comes thanks to the Infiniti Design team in Beijing, China and it is certainly one of the most interesting products to come from the Vision Gran Turismo project.
Generally speaking, it features an extremely low roofline with a steeply raked windscreen and narrow windows which would make the current Chevrolet Camaro envious. The front is characterised by a gaping wide grille as well as LED headlights and a motorsports inspired front splitter/bumper section. Other key design features are the small wing mirrors and sweeping lines stretching from the front arches through to the rear.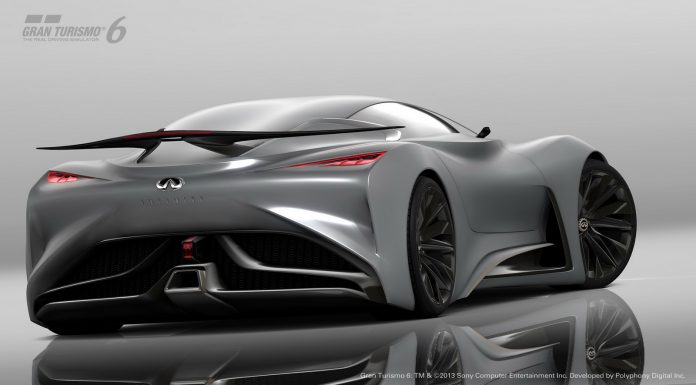 The rear of the Infiniti Vision Gran Turismo Concept is just as special as the front and sides and consequently makes use of slimline taillights and a uniquely shaped wing. Elsewhere, it features a single tailpipe exiting out from the centre of the rear diffuser.
Other unique elements include underfloor airflow control as well as a 45:55 front/rear weight distribution. Official powertrain details haven't been announced but Infiniti says the car is mid-engined.