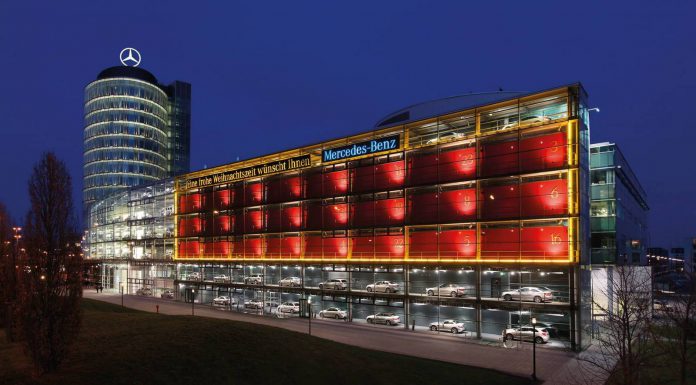 It's that time of year when Mercedes-Benz München presents a super-sized Advent calendar, uncovering one of 24 windows every day leading up to Christmas. This year, it's all about 125 years of Mercedes-Benz Motorsport featuring cars like the 1999 McLaren-Mercedes Formula 1 race car MP 4-14 in which Mika Häkkinnen won the championship.
Located directly next to one of the busiest roads in the city, the Mercedes-Benz Munich showroom can be seen by many every day. During the December month there is an extra reason to drive by their 6-story tall building as every day another show piece from the Mercedes-Benz Motorsport history is unveiled to the public eye. Exclusively to GTspirit Readers we can unveil all 24 cars already!
One of the highlights: 1999 McLaren-Mercedes Formula 1 car of Mika Hakkinnen! A man of few words who preferred to let his driving do the talking, he had also won the F1 title for McLaren in 1998 with eight wins to Michael Schumacher's six, and took the title again in 1999 with Schumacher sidelined by a broken leg after crashing at the British Grand Prix.

Four more wins in 2000 helped Hakkinen's impressive record of point-scoring in over half his races, topping the podium 20 times. In 11 years his only rival who achieved more was Schumacher, who praised the flying Finn as his most respected opponent. Then in 2001, after nine years with McLaren and two more wins, the new father said he was going to take a year out to spend more time with his family – and never returned to F1.