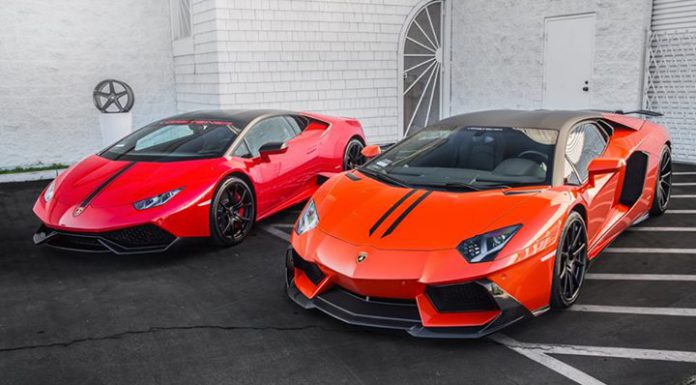 As one of the world's premiere tuning companies with a focus on visual and aerodynamic upgrades, Vorsteiner offers packages for a huge selection of cars ranging from BMWs through to cars like the Lamborghini Aventador and new Lamborghini Huracan. At a recent gathering at Lamborghini Newport Beach last week, our good friend CarNinja managed to snap Vorsteiner's two most identifiable Huracan and Aventador models together!
As for the Huracan in question, it is finished in Rosso Mars and complete with a matte black roof, A-pillars and wing mirrors as well as black wheels and a black front splitter. As for the Aventador, it is Vorsteiner's Aventador-V LP-740 and features a plethora of upgrades on all surfaces.
At the front, the Lamborghini Aventador-V LP-740 by Vorsteiner features a brand new front bumper incorporating new dual air intake carbon fibre surrounds as well as an extremely impressive carbon fibre front splitter. Additionally, the Aventador-V LP-740 pictured here features a central racing stripe running down the length of the vehicle in the form Vorsteiner's 'V' logo. This graphic kit is an optional extra.
Elsewhere, the car is rolling on a set of Vorsteiner Forged monoblock wheels measuring 20x9J at the front and 21x13J at the rear and mated to Pirelli P-Zero tyres. Additionally, the Aventador-V LP-740 features new carbon fibre side sills and carbon fibre side air intake surrounds as well as a prominent carbon fibre rear wing. Completing the changes is an ECU software flash courtesy of Hex Flash. This sees power boosted to 740 hp at the wheels and an additional 35 lb-ft of torque added.