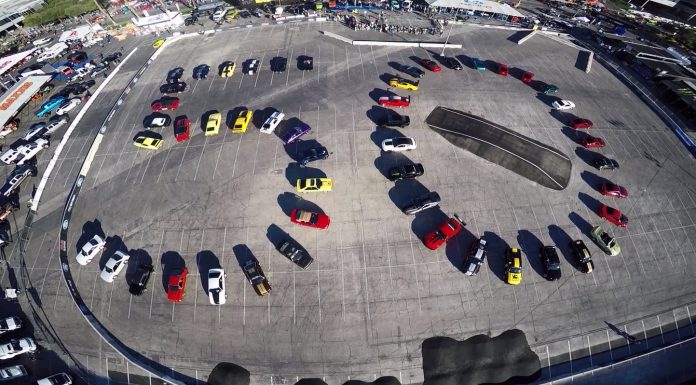 A display of over 50 Mustangs, at least one from each year of production, was a special feature of SEMA's Ford Out Front stand and to capture some spectacular drone video these Mustangs were parked to form a giant "50" as a tribute to the icon's 50 years of continuous production with more than 9.4 million cars produced.
Crowning the golden anniversary celebrations of the most-liked vehicle on Facebook with 8 million likes, the 2015 Ford Mustang won SEMA's Hottest Car award thanks to dozens of highly modified examples of the new pony car, including Ford Racing's supercharged King Cobra. In addition to the 2015 Mustangs in Ford's show stand, numerous Mustangs were on display on the SEMA show floor, both modern and vintage.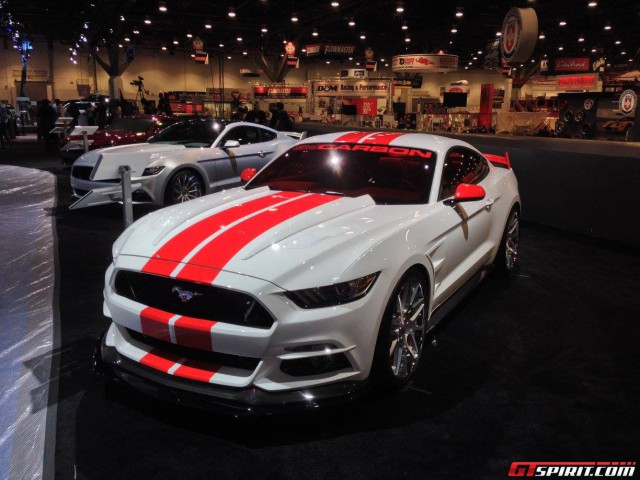 Unlike most SEMA project cars, the King Cobra can be replicated by owners of the 2015 Mustang by, as Jamie Allison, director of Ford Racing, put it, "opening the Ford Racing catalogue and getting one of everything."
Also making its debut at the SEMA 2014 show was a radically modified 1965 Mustang notchback built by Ken Block's team of skilled customisers. Starring in Gymkhana Seven, Block's Mustang sports a worked-over engine that produces 845 horsepower and a fully custom four-wheel-drive system.
Elsewhere on the SEMA show floor were dozens of Mustangs owned and built by passionate fans of the brand. "Walking through the show floor and talking to all the Mustang builders was a special experience," said Dave Pericak, Mustang chief engineer. "These builders were among the first people to pick up the 2015 Mustang from dealerships about a month ago; since that time they have worked flat-out to fabricate and customize their SEMA show cars. The passion these builders have for the Mustang is what drives my team and me to give the Mustang everything we've got."
On the Ford stand, several Mustangs stood out as fan favorites thanks to their extreme level of modification. Among the most popular cars were Chip Foose's Mustang convertible, Full Race's SCCA-eligible EcoBoost Mustang and Watson Racing's drag race-inspired Mustang.