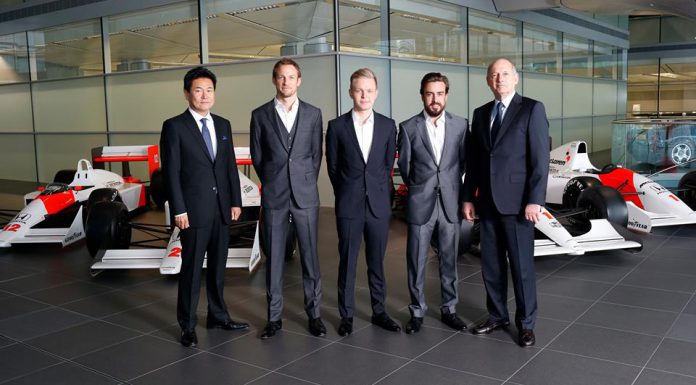 Just a few hours after Jenson Button was confirmed to have been retained by the McLaren-Honda Formula One team for 2015, two-time world champion Fernando Alonso has been confirmed as his teammate. This confirmation follows months of speculation that Alonso had inked a deal with the British outfit in the latter half of the 2014 season.
The two experienced races will be at the forefront of dramatic changes within the team as they switch to Honda-sourced engines instead of Mercedes engines. During the 1980's, Honda and McLaren partnered for the first time and went on to create some of the most iconic Formula One racing cars ever including Ayrton Senna's McLaren-Honda MP4/4 which won 15 of the 16 grands prix in the 1988 season.
Discussing the signing, Alonso said, "I still remember, as a kid, the posters in my wardrobe, my toy cars in which I dreamed I would one day emulate Ayrton, and the kart that my father built for my older sister, and that I ended up falling in love with. That kart had the livery of one of the most legendary partnerships in the history of Formula 1, McLaren-Honda, the car that Ayrton drove, the same partnership to which I am now honoured to join, to take part in the next Formula 1 world championship. I am joining this project with enormous enthusiasm and determination, knowing that it may require some time to achieve the results we are aiming for, which is no problem for me.
"Over the past year I have received several offers, some of them really tempting, given the current performance of some of the teams that showed interest. But, more than a year ago, McLaren-Honda contacted me and asked me to take part, in a very active way, in the return of their partnership – a partnership that dominated the Formula 1 scene for so long," Alonso revealed.
Chairman and chief executive of McLaren, Ron Dennis, echoed Alonso's excitement by saying, "I am absolutely delighted to be on the threshold of leading McLaren-Honda to a new era of partnership, and I speak on behalf of all at McLaren when I say that. I am equally confident that our colleagues at Honda share that determination and passion to win. As regards drivers, McLaren's policy has always been to assemble the strongest line-up possible, and in Fernando and Jenson I firmly believe that is exactly what we have."
Alongside Fernando Alonso and Jenson Button, Kevin Magnussen will act as the team's reserve and test driver.