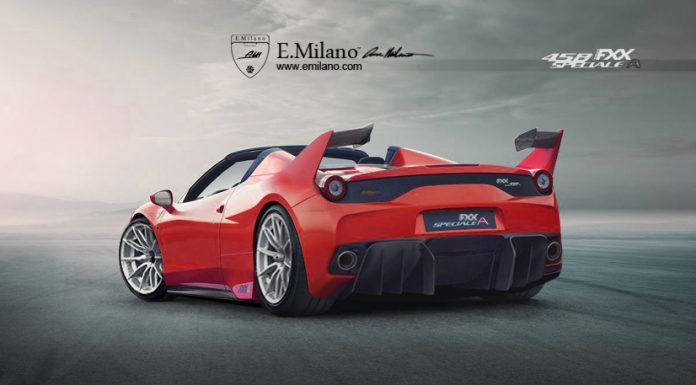 In recent years when Ferrari has unveiled a new range-topping performance car, it also unveils a special, track-dedicated variant wearing the XX name. First there was the Ferrari FXX based on the Enzo and then the 599XX based on the Ferrari 599 GTB. Just last week, the LaFerrari based FXX K was revealed. As a result, it is unlikely another car will be added to the XX programme until the LaFerrari is replaced.
Nevertheless, Evren Milano has decided to render a track-only version of the Ferrari 458 Speciale A appropriately dubbed the 458XX. As the rendering shows, the car features very similar aerodynamic components to the FXX K with two prominent rear fins, an in-your-face diffuser, racing wheels and extended side skirts.
As for the real Ferrari 458 Speciale A, it features the most powerful naturally-aspirated road-going V8 engine ever built by the Italian marque. The engine, which might be the last naturally-aspirated engine that Ferrari ever builds, produces a colossal 597 hp and 540 Nm of torque at 6000 rpm.
All this power means the Speciale A sprints from 0-100 km/h in just 3.0 seconds, the same as the Speciale Coupe, and has a Fiorano lap time of 1 minute 23 seconds, again identical to the Coupe. The Speciale A is the most aerodynamically efficient topless Ferrari ever made and it sure looks fantastic with the two beautifully crafted buttresses behind the occupants heads.