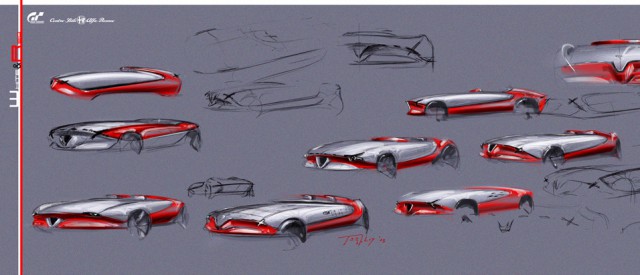 For quite some time, Alfa Romeo was preparing its very own Vision Gran Turismo concept for the Gran Turismo 6 video game and even revealed a number of sketches for the upcoming car. However, it has emerged that the project is dead with sketches and the car's name being removed from Gran Turismo's official website.
While it remains unclear why the pin was pulled on the project, the sketch featured above does indicate how unique the Italian concept would have been. The car features an elongated bonnet alongside a speedster body style as well as Alfa Romeo's traditional triangular front grille.
Other manufacturer's to have taken part in the Vision Gran Turismo concept project include the likes of Toyota, Subaru, Aston Martin, Mercedes-Benz, Nissan, Volkswagen, BMW, Mitsubishi and Chevrolet.