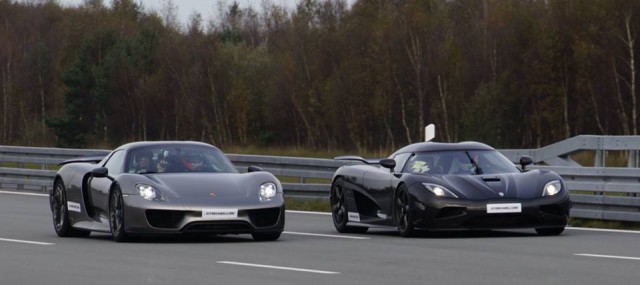 While the hybrid hypercar trio of the Porsche 918 Spyder, McLaren P1 and Ferrari LaFerrari have been receiving huge attention throughout the year, they actually aren't the fastest road cars on the planet particularly when it comes to top speed. So when GTboard managed to line up a Porsche 918 Spyder against a clear carbon fibre Koenigsegg Agera R, the results were bound to be particularly spectacular and proved to be just that.
[youtube]https://www.youtube.com/watch?v=jkC_ZZueQ6c[/youtube]
During the races, the two European supercars compete in rolling drag races from 50 km/h and the results are especially interesting with everything filmed in 4K HD. As you could imagine, this is a video well worth watching!
As a reminder, the Koenigsegg Agera R is powered by a 5.0-litre, twin-turbocharged V8 engine delivering a brutal 1140 hp on E85 ethanol. As a result, the car can rocket to 100 km/h in a mere 2.8 seconds and a claimed top speed of 442 km/h. By comparison, the 918 Spyder features a 4.6-litre mid-mounted V8 engine mated to two electric motors to deliver a combined 887 hp!