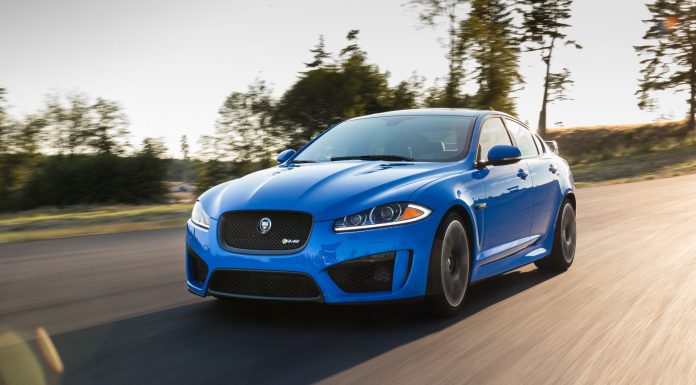 According to new reports, the next-generation Jaguar XF sedan is set to arrive at the New York Auto Show 2015 in early April. The new Jaguar XF will use a range of technologies first utilised by the recently released XE sedan.
Beneath the skin, the next-gen Jaguar XF will use the same aluminium iQ[Al] platform as the XE and first previewed on the C-X17 Sports Crossover Concept from late 2013. This new platform is extremely scalable so will be suitable for the increased size of the XF compared to the more compact XE. Beyond the extra flexibility which the latest architecture provides, it is also significantly lighter than the chassis currently used by the Jaguar XF.
GTspirit review of 2014 Jaguar XFR-S

As a matter of fact, the iQ[Al] platform should strip about 50-100 kg from the XF which will mean it'll weigh almost exactly the same as the current Audi A6, BMW 5-Series and Mercedes-Benz E-Class. As it stands, the car is about 50 kg heavier than the German trio.
Elsewhere, the next-generation Jaguar XF will utilise the British firm's recently launched Ingenium range of engines with a new V8 expected to deliver upwards of 600 hp to top out the range.
From a styling perspective, the new XF will be heavily inspired by the XE meaning it'll feature sharper lines with the headlights and taillights in particular expected to feature fewer curves. Additionally, the front grille of the new XF will be heavily inspired by the XE's albeit on a slightly larger scale. The new styling of the XF will be part of a Jaguar push to make its range of vehicles more identifiable around the world.
According to an insider speaking with Autocar, "In this segment, brand recognition is everything. If you own an Audi, you want people to know you own an Audi, and not everyone can look at an XF today and say: 'That is a Jaguar'.
"In the UK, we all know what a Jaguar looks like, but as we push into new markets and the XE draws in new customers who have never bought from us before, it's increasingly important people see our cars and know they are a Jaguar," they said.
[Via Autocar]