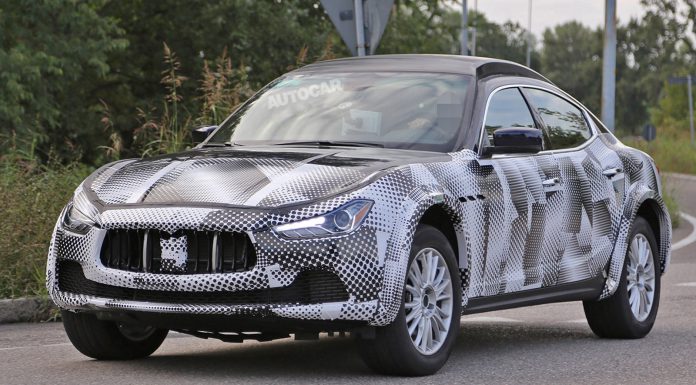 Maserati has announced that it will launch the long-awaited Levante SUV at the end of 2015 after a strict testing regime is completed.
While recently speaking with Autocar about the Maserati Levante, the company's marketing director James Cowan revealed that the luxury SUV could prove a game-changer for the firm.
"It will be our biggest seller in many markets and will attract almost universally new customers to the brand. The key factor is that it is a global vehicle – it will sell well in Europe, the US and China, and that gives us a broad base to approach sales from," he said.
In recent months, a selection of Maserati Levante prototypes have been spied testing disguised as the existing Ghibli. However their true identities have been easy to spot thanks largely to the increase ride height, larger wheels, flared side skirts and raised roofline.
Last year, speculation emerged suggesting that the Levante will receive the new 525 hp V8 twin-turbo engine from the Quattroporte when it goes on sale. This could then be accompanied by other less powerful unit options among them being the 3.0 litre twin-turbo V6 from the Ghibli, a diesel V6 and probably the new V8 diesel from Fiat.
Further details about the Levante remain rather scarce but we do know that production will take place at the marque's Mirafiro plant in Northern Italy. The first bodies are expected to be produced next year. One key point of debate around the new Levante is what platform it will be based on.
Despite previous rumours indicating that the Levante will utilise the same platform as the Jeep Grand Cherokee, the Levante SUV will in fact use the platform of the latest Quattroporte albeit somewhat modified.
The Maserati Levante is expected to compete with the likes of the Porsche Cayenne, Range Rover Sport and BMW X5. It should also help Maserati achieve its goal of reaching 75,000 annual sales by 2018 alongside the new Ghibli and facelifted Quattroporte.
[Via Autocar]