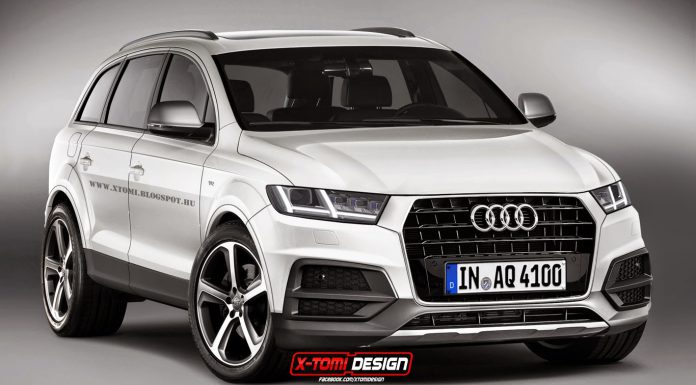 The next-generation Audi Q7 is set to arrive next year and alongside bringing with it a selection of new technologies, the styling of the latest Q7 will also be thoroughly revised and updated from the outgoing model.
In the following rendering, X-Tomi Design has designed the 2016 Audi Q7 to feature a thoroughly revised front fascia. That new fascia includes a remodelled single frame grille, brand new headlights with incorporated LED daytime running lights as well as blacked-out front air intakes. Elsewhere, X-Tomi has imagined the new Q7 with flared arches and more pronounced creases along the bonnet and down the sides.
Beyond the design, the new Q7 will ride on Volkswagen's all-new MLB architecture, which is also set to underpin other VW Group SUVs such as the Porsche Cayenne and production versions of the Lamborghini Urus and Bentley Falcon. In moving to the new platform, VW managed to reportedly shave nearly 300 kg (660 lbs) from the Q7, which will result in both improved driving dynamics and fuel economy.
As far as engine options go, certain petrol choices from the A7 and A8 are expected to be used, along with several 3.0-litre V6 TDI diesels with varying power outputs. A high performance RS version with Audi's twin-turbocharged 4.0-liter V8 is expected to be introduced at a later date, along with an earth-friendly plug-in hybrid version.
[Via X-Tomi Design]