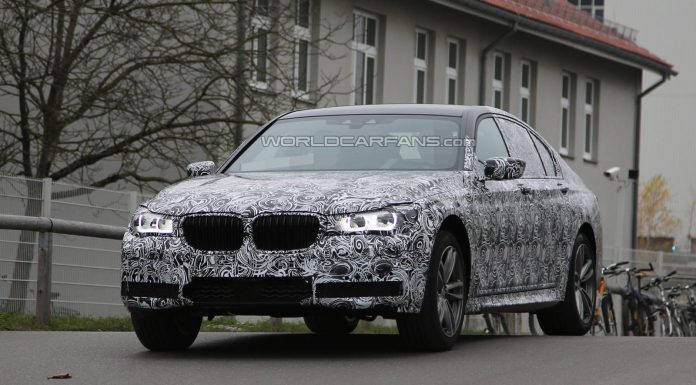 The first prototype of the next-generation 2016 BMW 7-Series wearing what appears to be its production body has been spied during testing. Because this test mule is outfitted with the near finished body, a number of key elements help distinguish it from previous prototypes spied during recent months.
One of the key new design features apparent on this next-gen BMW 7-Series prototype is the restyled shoulder line. It is more pronounced than the outgoing model and appears to be influenced by the BMW Vision Future Luxury Concept unveiled earlier in the year.
Elsewhere, the car here appears to feature larger kidney grilles than other prototypes as well as the outgoing 7-Series. Alongside the larger grilles are brand new headlights which incorporate significantly sharper lines than those currently used. As images in the link below show, this car also has a new set of remodelled dual tailpipes.
Beyond the styling changes, we know that the 2016 BMW 7-Series will adopt a new chassis combining both aluminium and carbon fibre and could weigh 204 kg less than the outgoing platform. Additionally, recent rumours have suggested that the next-generation BMW 7-Series will adopt the German marque's new range of inline six-cylinder engines as part of BMWs new modular engine architecture.
This new engine architecture includes three, four and six-cylinder powertrains both coming in petrol and diesel derivatives. These new engines are promising to not only be more refined than the current BMW engines on the market but will provide even more impressive performance capabilities.
[Via World Car Fans]