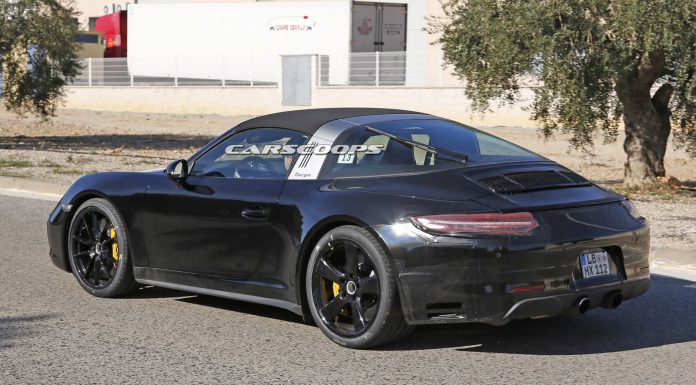 A new prototype for the facelifted Porsche 991.2-generation 911 Targa has been spied testing and this particular test mule is especially eye-catching for one key reason; it could in fact be a test bed for a future Porsche 911 GTS Targa.
Some reports suggest that the GTS variant of the facelifted 911 Targa will adopt dual exiting tailpipes rather than the quad exhaust pipe setup of the recently revealed Porsche 911 GTS range. While it remains to be seen if this is actually the case, the presence of the new tailpipe design certainly suggests that the German sports car manufacturer is working on a new variant for the facelifted 911 Targa.
Beyond the exhaust, this test mule features a selection of other revised exterior elements apparent from previous 991.2 prototypes. As a result, both the headlights and taillights are being disguised to hide some subtle changes while the LED daytime running lights are also set for a dramatic change.
[Via Carscoops]