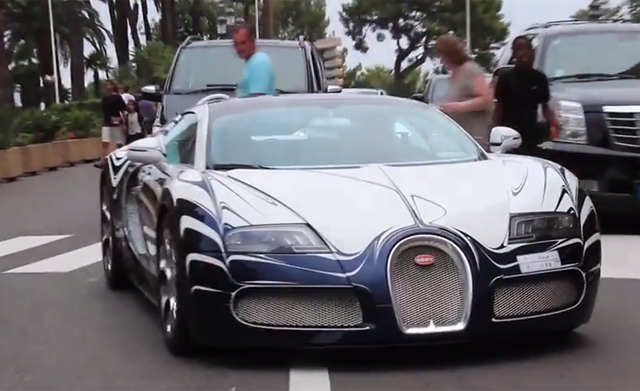 You'd be hard pressed to find two or more Bugatti Veyrons which are absolutely identical. However, there are some that stand out from the pack and the one-off Bugatti Veyron L'Or Blanc is certainly one of them. As one of the most recognisable Veyron editions created, it recently turned heads when driving around Monaco.
[youtube]https://www.youtube.com/watch?v=kDL_1XO9QT4[/youtube]
The Bugatti Veyron L'Or Blanc is the result of a partnership between Bugatti and Königliche Porzellan-Manufaktur Berlin, a famous and historic German company producing ceramics and art porcelain.
L'Or Blanc is French for 'white gold' and this unique version of a Bugatti Veyron Grand Sport is characterized by the use of porcelain for both the exterior and the interior. The designers took inspiration form the curved road of the Stelvio Pass in the Alps, and used a particular technique with a special Japanese tape to hand-paint the body with blue enamel. The work of the skilled craftsmen took three weeks, which resulted in this combination of art and technology.