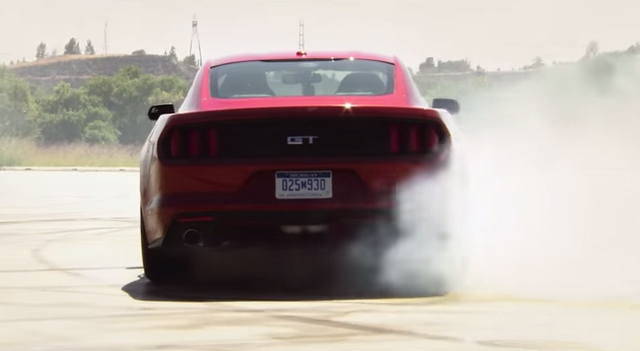 Jay Leno's Garage has just hit the one million subscriber mark and to celebrate the milestone, Leno decided to celebrate in the most fitting way possible; by doing burnouts and donuts in the 2015 Ford Mustang GT!
[youtube]https://www.youtube.com/watch?v=PJ3WJizzPfs#t=177[/youtube]
Powering the 2015 Ford Mustang GT is of course a 5.0-litre naturally aspirated V8 engine that produces an impressive 435 hp and 400 lb-ft of torque. To help create the uprated V8, Ford implemented larger intake valves, larger exhaust valves, revised intake and exhaust camshafts, stiffer valve springs, a new cylinder head casting, Sinter forged connecting rods, redesigned piston tops and a rebalanced forced crankshaft.