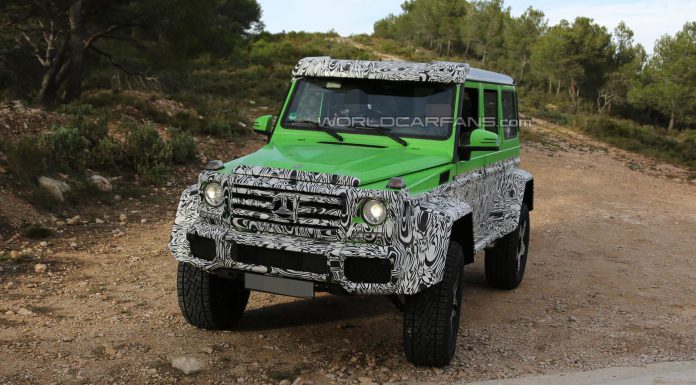 Further details about the upcoming Mercedes-Benz G63 AMG 4×4 offroader have emerged with the car set to sit between the existing G63 AMG and the mighty six-wheeled G63 6×6,
Autocar reports that the new G63 AMG 4×4 will be introduced sometime next year and make use of the same engine and transmission as the G63 AMG 6×6. The 4×4 will also act as one of the final versions of the current-generation G-Class before its replacement arrives in 2017.
As for the recently spied prototype, it featured massively and boxy flared arches supporting bigger wheels and tyres. Additionally, the car featured significantly more ground clearance than the current Mercedes-Benz G63 AMG.
Because the same 5.5-litre twin-turbocharged V8 of the G63 AMG and G63 6×6 is expected to be maintained, expect identical power figures. That means it should deliver 544 hp and 560 lb-ft of torque with drive coming through a seven-speed automatic transmission.
[Via Autocar, Picture via World Car Fans]