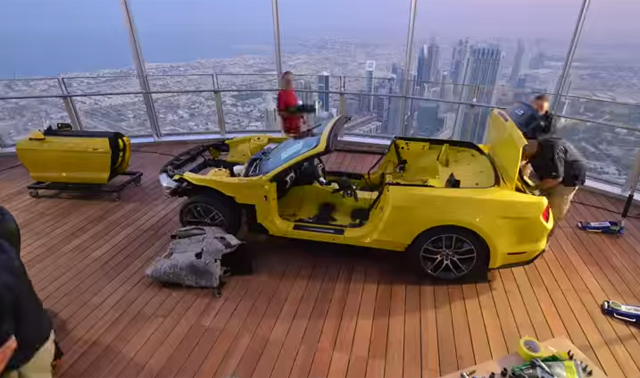 A few days ago, Ford managed to display a 2015 Ford Mustang GT Convertible on the 112th floor of Dubai's Burj Khalifa skyscraper. Now a video showing the car being constructed has been released and it perfectly demonstrates how long it took to assemble the car even though it doesn't feature an engine or transmission!
[youtube]https://www.youtube.com/watch?v=nlX6mmYt908#t=95[/youtube]
As they did with at the Empire State Building, Ford transported the Mustang to the 112th floor in six pieces through the buildings elevators. The car was then put together over a period of about 12 hours and was done to celebrate the launch of Ford Middle East and Africa set to be headquartered in Dubai. The Mustang will arrive in the Middle East by 2016.
Discussing the feat, Ford executive chairman Bill Ford said, "Almost 50 years ago Ford captured the world's attention by placing a 1965 Mustang Convertible atop what was then the world's tallest building, the Empire State Building in New York City. Today's event in Dubai, home to the world's current tallest building, completes an incredible global journey for Ford and Mustang."