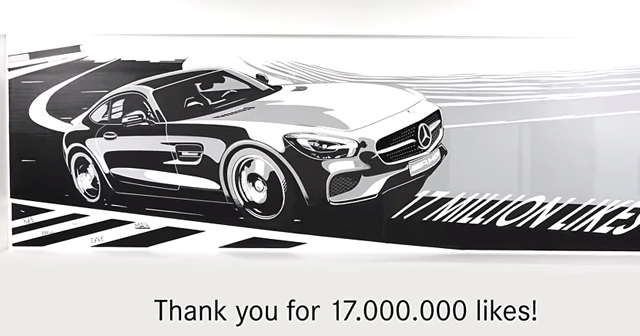 Mercedes-Benz has released a cool video to celebrate hitting 17 million fans on Facebook. The video shows some of the firm's best designers in their element when created a piece of Mercedes-AMG GT inspired wall art.
[youtube]https://www.youtube.com/watch?v=AoV4_Fay9zE#t=80[/youtube]
While Porsche may have released a special edition 911 Carrera to celebrate its 5 million Facebook fans, what Mercedes-Benz has done is still thoroughly impressive. Mercedes designers created a near life size image of the AMG GT on a wall using nothing but black and grey sticky tape and the attention to detail really has to be seen to be believed.
Alongside the release of this video, it has emerged that the Mercedes-Benz Facebook page is quite comfortably the most valuable automaker page on the popular networking site. As a matter of fact, socialBench says the Mercedes-Benz Facebook page has a worth of just over $9 million which is more than double Aston Martin in second place.