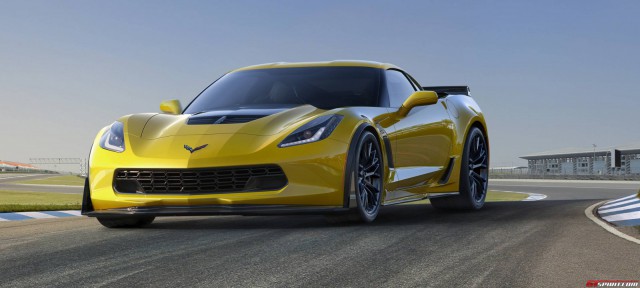 With production of the 2015 Chevrolet Corvette Z06 recently kicking off and customer deliveries set to begin shortly, official fuel economy figures have leaked online for the new American supercars and its LT4 supercharged V8 engine.
In the U.S, the new Corvette Z06 fitted with the eight-speed automatic 'box can achieve 13 mpg in the city and 23 mpg on the highway resulting in a combined mpg of 16. For other countries, that translates into 18 litres per 100 km in the city and 10 litres per 100 km outside the city. In the society we live where fuel efficient hatchbacks are becoming the norm, these figures may not seem that impressive. However, they confirm that the new Corvette Z06 is more frugal on fuel than both the Ferrari 458 Speciale and Lamborghini Aventador.
As a reminder, the LT4 supercharged 6.2-litre V8 engine powering the 2015 Chevrolet Corvette Z06 delivers 650 hp and an equal 650 lb-ft of torque. Peak horsepower is reached at 6400 rpm while peak torque is found at 3600 rpm. Excitingly, 90 per cent of the total torque figure is available from just 2500 rpm through to 5400 rpm.
The engine leverages direct injection, active fuel management, cylinder deactivation and continuously variable valve timing to produce that performance. The gearbox choice is between a traditional seven-speed manual or an all-new, high-performance eight-speed automatic transmission with paddle shifters for manual control.