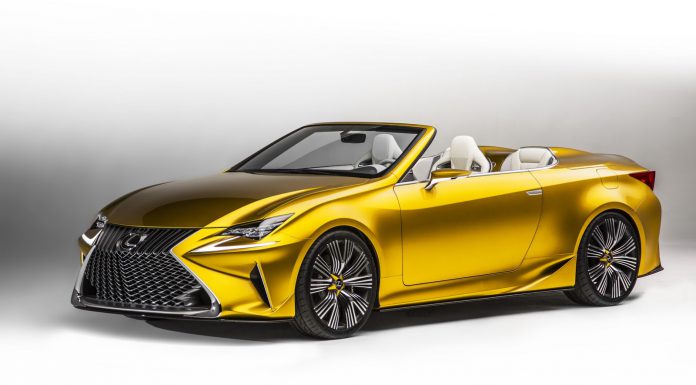 The covers have just been lifted off the Lexus LF-C2 Concept at the Los Angeles Auto Show 2014. Designed to preview a future Lexus RC Convertible, the LF-C2 Concept features a bold design typical of a Lexus concept car and brings with it a selection of interesting features not seen in the current RC coupe range.
From a styling standpoint, the Lexus LF-C2 Concept is similar to the Lexus RC but as you'd imagine, has been thoroughly revised to really make it stand out. Firstly, the prominent front grille has been modified alongside the headlights, air intakes and V-shaped LED daytime running lights. Elsewhere, the Lexus LF-C2 Concept features super-slim wing mirrors which despite not being production-approved, suit the overall design of the car very well.
Elsewhere, a special set of wheels have been fitted while at the rear, the fascia has been modified and now incorporates brand new headlights and four stacked chrome-finished tailpipes. One of the most appealing design aspects of the Lexus LF-C2 Concept are the prominent rear buttresses on the decklid. Completing the exterior overhaul is obviously the bright gold paint finish.
In the cabin, the Lexus LF-C2 Concept has received a wrath of LED screens. Firstly, an entirely electronic gauge cluster is featured similar to the one from the existing RC. However, the LF-C2 Concept then utilises a steering wheel with two small touchscreens to replace the more traditional analog switches and buttons found on many modern steering wheels. A third screen can then be found mounted on top of the dashboard, a fourth screen in the centre console and a fifth LED screen on the transmission tunnel.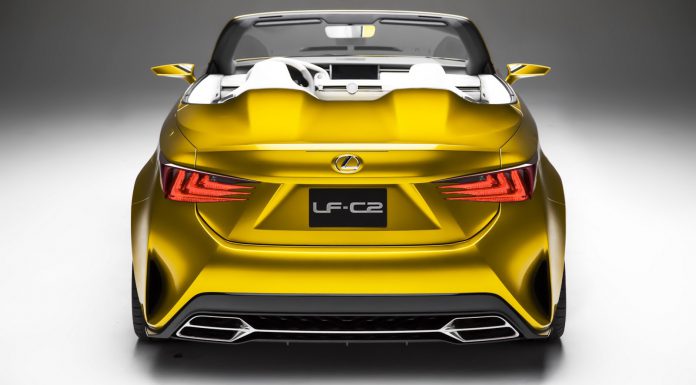 Discussing the car, Lexus group vice president Jeff Bracken said, "The LF-C2 concept shows what's in store for our brand's future design direction. This concept shows consumers around the world Lexus' devotion to emotional designs as well as our passion for an exceptional driving experience."