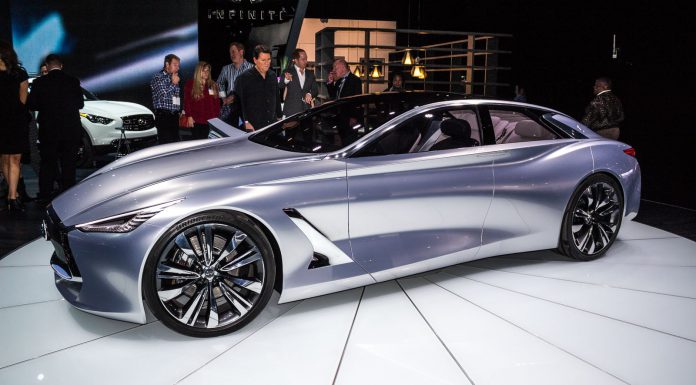 The Infiniti Q80 Inspiration Concept has gone on display at the Los Angeles Auto Show 2014. The Q80 demonstrates Infiniti's intention to produce its first premium saloon. We first saw it at the Paris Motor Show earlier this year, in Los Angeles it turned as many heads! We took a closer look!
The Q80 gets a 550 hp hybrid power unit. The conventional petrol unit is all-new, a downsized twin turbocharged 3.0-litre V6. It offers an insight into the Infiniti engine portfolio due to be unveiled over the next two years. It is capable of returning 5.5 litres/100km (42.8 mpg) and CO2 emissions of about 129g/km, yet it also offers extreme performance.
Inside, the driver and passengers get four individual seats. The driver gets a head up display and the passenger also has a HUD unit. Both rear passengers get a touch screen. Surfaces include quilted leather and alcantara, together with leather and metal finishes. The panoramic glass roof arches over the cabin. The centre console gets an Infiniti InTouch touchpad.

We particularly liked the gold champagne bottled which slots between the rear passengers! Take a look at all the official Infiniti Q80 Inspiration Concept details in our earlier article. For all the latest Los Angeles Auto Show 2014 news, take a look at our dedicated news channel!