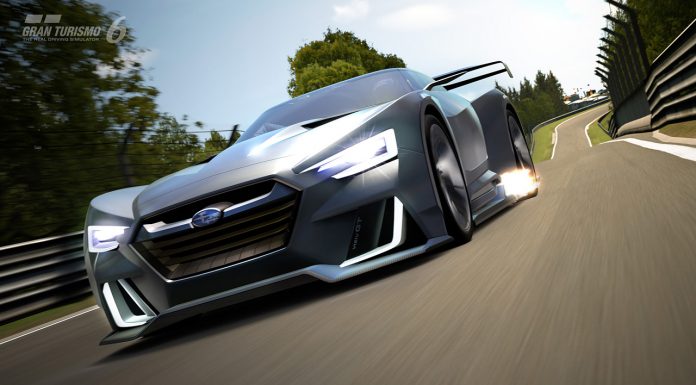 The Subaru Viziv Gran Turismo Concept has just been revealed in virtual form in time for the Los Angeles Auto Show 2014.
As teaser images revealed, the Subaru Viziv Gran Turismo Concept makes use of a unique design with a stretched and elongated bonnet, a low slung roofline and very sharp and aggressive lines. The front is characterised by new LED headlights alongside a bonnet incorporating air intakes. Additionally, a sharp splitter is featured at the front end.
From the side, the Viziv GT Concept is rolling on a large set of wheels with bold side skirts. The most dramatic aerodynamic elements are found at the rear end with a massive wing stretching across from the roof and rear window to effectively float above the rear decklid. Additionally, a menacing diffuser has been installed.
Subaru imagines its Viziv GT Concept tipping the scales at 1380 kg. Power is then provided by a hybrid powertrain incorporating a 2.0-litre turbocharged boxer engine with three electric engines (one in the front and two in the rear). All up, 591 hp and 593 lb-ft of torque is delivered.

Discussing the car, the Japanese marque said, "By independently controlling each of the motor outputs, turning ability while cornering is drastically improved, while the torque vectoring lamps built into the fenders visualize its movement."