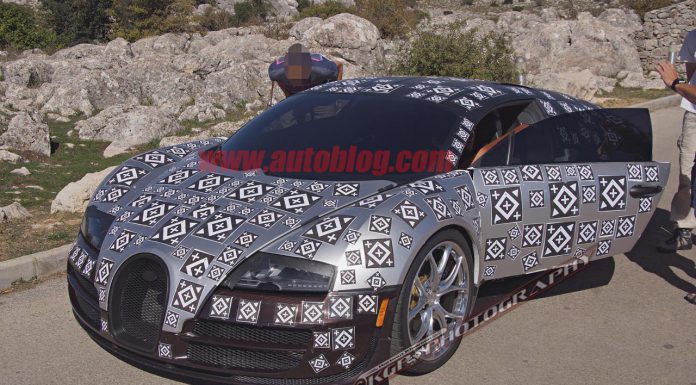 As the world's fastest production car and one of the most powerful series production cars, it is little wonder why the Bugatti Veyron continues to amaze and has already cemented its position in automotive history. Despite the greatness of the Veyron, the French marque is developing its successor and now a disguised prototype has been spied during a round of testing in Europe.
According to the latest reports, the Bugatti Veyron's successor will be dubbed the Chiron. This particular test mule immediately attracts the eye because it features a unique 'camouflaged' scheme with a plethora of stickers on top of the silver and dark red paint scheme. Additionally, it features some light camouflage over the headlights.
Bugatti Veyron Grand Sport Vitesse Black Bess Edition

Elsewhere, this Bugatti Chiron prototype features carbon ceramic brakes which are significantly larger than those from the existing Bugatti Veyron Super Sport suggesting that even more performance and power is likely from the new French hypercar. The adjustable rear spoiler and air brake has also been removed for testing purposes.
It is in the engine bay where all of the action is happening however. A number of new components not present on the existing Veyron can be seen with some parts consistent of a hybrid powertrain. As a result, it seems apparent that the Veyron's successor will utilise an electric motor mated to the car's existing quad-turbocharged 8.0-litre W16 engine.
In the cabin, this prototype features the same centre console and transmission setup as the Veyron albeit with a couple large red buttons. Interestingly, it has also been installed with a steering wheel from the Volkswagen Golf suggesting Bugatti is working on a redesigned steering wheel.
Thanks to the hybrid powertrain, the Bugatti Chiron will reportedly deliver in the region of 1500 hp.
[Via Autoblog]