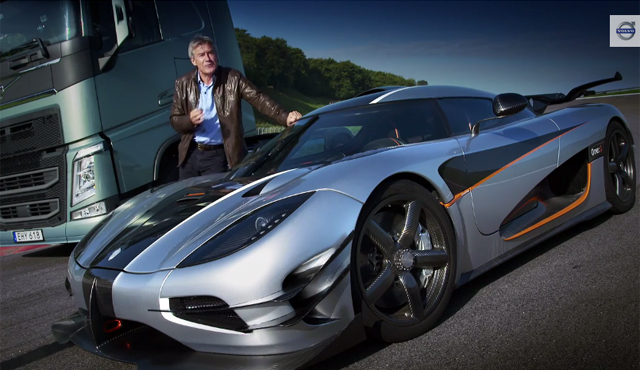 What do a Koenigsegg One:1 and a Volvo FH truck have in common? Well apart from the fact that they're both made in Sweden, very little. However, as part of Volvo's latest advertising campaign, the truck maker hit a Swedish racetrack against the 1360 hp Koenigsegg One:1 to test out the Volvo FH's brand new dual-clutch transmission reportedly inspired by sports car technology.
[youtube]https://www.youtube.com/watch?v=PlFiKo64kQw#t=71[/youtube]
The clip features Tiff Needell behind the wheel of the Volvo FH while Koenigsegg's chief test driver is piloting the One:1. To even up the odds, the Volvo has to complete a lap of the circuit quicker than the One:1 can do two laps.
So who wins? You'll have to watch the exciting video to find out!