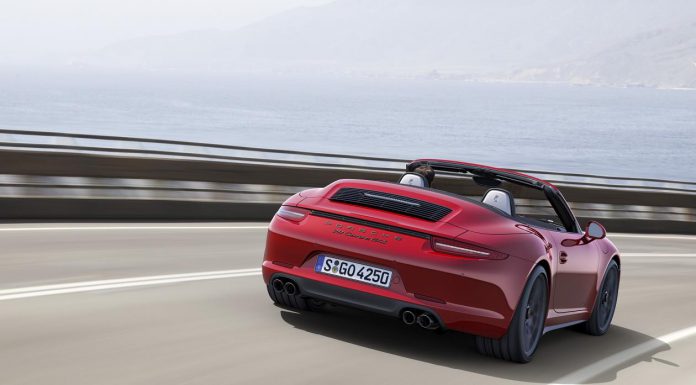 Porsche will celebrate the world premiere of three all-new models at the upcoming Los Angeles Auto Show 2014 later this month. Each of the vehicles, the 911 Carrera GTS, Cayenne GTS and Panamera Turbo S Executive Exclusive Series, have already been revealed, however the LA show will mark their first major public appearance.
Possibly the most interesting of the three new models is the 911 Carrera GTS, which is meant to bridge the gap between the 911 Carrera S and the hardcore 911 GT3. Like the Carrera S, it's available in both Coupe and Cabriolet configurations with either rear or all-wheel drive. The 3.8-litre flat-six engine has received a 30 hp bump over the Carrera S to 424 hp, while the suspension has been upgraded with Porsche's PASM dampers, resulting in a 10 mm drop.
The Cayenne GTS offers potential buyers of the SUV a sporty package which is less of a performance commitment than the extreme Cayenne Turbo. Checking the 'GTS' box when ordering your Cayenne will give the twin-turbocharged 3.6-litre V6 a modest power bump of 20 hp and 36 lb-ft to 434 hp and 442 lb-ft. It will also net you Porsche's PASM suspension, a sports exhaust, larger brakes and more.
Rounding out Porsche's new offerings in LA will be the Panamera Turbo S Executive Exclusive Series. The Executive Exclusive Panamera offers more luxury than Porsche has with any other model, mainly through a new "Rear Seat Entertainment Plus" package and "exceptionally soft," leather seating. The model also comes with two-tone paint, 20-inch Sport Classic wheels and, of course, the company's 4.8-litre 580 horsepower twin-turbocharged V8.
Check back to GTspirit for more photos and information on all three models when they make their debut in LA on November 19!