Just as predicted, Mercedes-Benz has just announced its all-new nomenclature for its existing range of models. The new naming scheme sees a major shakeup in the German firm's range of SUVs alongside a number of other name changes.
First of all and in a tribute to the Mercedes-Benz G-Class, all future SUV models from the automaker will start with 'GL' in their names. What this means is that the existing Mercedes-Benz GLK will become the GLC (or GL C-Class), the M-Class will become the GLE (GL E-Class), the brand new BMW X6 competitor will be dubbed the GLE Coupe while the previous Mercedes-Benz GL will now be known as the GLS (GL S-Class).
The standalone A-Class, B-Class, C-Class, E-Class and S-Class will remain the same as will the GLA, CLA, CLS and the Mercedes-Benz SL. One further change is that from 2016 onwards, the existing Mercedes-Benz SLK will become known as the SLC.
Changes have also been employed for the range of engines. For example, the name of a new Mercedes-Benz vehicle (e.g. the GLA 200) will now include a lower case letter at the end to denote its engine. 'c' will stand for compressed natural gas, 'd' for diesel, 'e' for electric, 'f' for fuel cell and 'h' for hybrid. Petrol models will not receive a specific designation.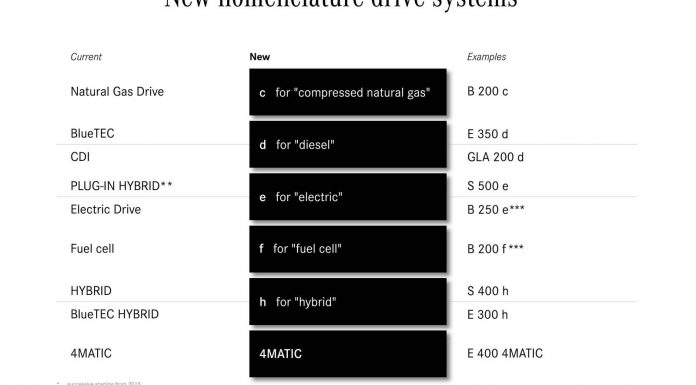 Discussing the changes, Dr. Jens Thiemer said, "After more than 20 years of continuity involving some of the most recognised and successful product names in the world, we are now making our system of vehicle nomenclature even more understandable. Bearing in mind the international appeal of our brand, our plan has been to devise an even simpler, more transparent and more logical system for the designations of our model series, with the aim of providing clear orientation for our customers.
"Now is the ideal time to do this, for in 2015 we will be updating virtually our whole SUV model range, providing us with the perfect starting point for renaming the whole family of vehicles," he said.